With people going hungry, children growing underdeveloped and obesity running rampant, it is no secret that we need to rethink the way we handle food.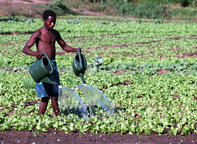 ©Eric Miller
Looking at the way the global climate is changing and nutrient lacking produce we have access to, we need to change the way we grow and distribute food.
Various reports and organizations have put forward suggestions over the years on how to find solutions to the problems with food insecurity we're facing. South Africa Online ® explores some of these solutions in terms of agriculture, nutrition, habits and city planning among others.