Understanding Overlapping Issues
The lure of vinegar steaming off piping-hot slap chips is almost irresistible in the late-morning air. At least one person has succumbed to the seduction of the local fish 'n chips shop on Rondebosch Main Road, Cape Town.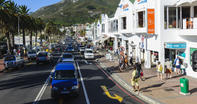 ©Roger de la Harpe
The hustle and bustle of Victoria Road, Camps Bay.
He is slouched at a table set out on the pavement, skewering another spear of deep-fried potato with a plastic fork. The nearby university is back in session and the streets are heaving. Local take-away joints have thrown a drift net across the current of passing traffic, trawling for custom amid the schools of people hurrying along the sidewalks.
Most of the ubiquitous high street franchises are there: two of the big-name burger joints; a pizza take-away; the Portuguese-style chicken place in a stand-off with a cheeky knock-off across the road. There is also the independent chippy, a sit-down restaurant and a couple of night spots that will open their doors come sundown.
A few of the usual supermarket names disgorge people lugging bags of groceries. This could be the high street in just about any city in Africa, with hungry people bustling about on its streets, and those in the business of food setting up shop to feed their appetites. Here we review some of the solutions recommended by many of the key thinkers in the world of food security in the city.
Keeping our cities well nourished and adequately fed is not just about producing more food – it is about making sure everyone has regular and reliable access to good, wholesome food, and that these are the foods that they choose when they do have access.
But we know that, overwhelmingly, our cities are making us fat, and often malnourished. Understanding how to redress this means we must step well back from the finer detail, and try to see the myriad issues that overlap in such a way that they influence what and how we eat.
Is the Individual Responsible for Obesity?
It would be ideal if the solution to the region's growing weight problems and associated ill health were simply a matter of signing everyone up for a healthy eating programme. Yes, the bottom line is that if we take in more energy than we burn in a day, we are going to stash it away in the body's pantry, the fat stores.
And if we do that consistently over a few decades, then we are going to get heavier and heavier and heavier. However, the reasons for why we take in more calories than we need are multiple and complex. An appropriate response, therefore, needs to come from many different quarters.
Since the 1970s, the design of our cities and the industrial production of our food have made it easier for us to get hold of more cheap calories with less effort. So it has tipped our energy-in/energy-out balance to the wrong side of our ideal goal weight. How to deal with it? Preventing and responding to obesity needs to include responses from across society – government, civil society, business and the public.
It needs 'political support, intersectoral collaboration and community participation, local actions, wide inclusion of the population, adequately resourced programmes, infiltration of existing initiatives, evidence-based planning, and proper monitoring and evaluation', states the journal Public Health Nutrition on how the government and the country's health professionals need to respond to South Africa's rising obesity problem.
'Interventions should have the following components: reasonable weight goals, healthful eating, physical activity and behavioural change.
Prevention should be managed in community services, identification of high-risk patients in primary healthcare services and treatment of comorbid diseases in hospital services.' Even though the individual is struggling against a system of modern food production and urbanisation that is so much bigger than they are, it does not mean they abdicate all responsibility
. Professor Steven Gortmaker from the Harvard School of Public Health calls for parents and caregivers to 'act as role models' to promote healthy living to youngsters, and notes that individuals should actively choose to make wise choices on healthy food and physical activity, also creating healthy food and activity environments at home, at work, in schools and in the community.
The State's Role in Promoting Good Health
Governments need to get more involved. For too long now they have left the ball with the individual, the private sector and civil society, argues Dr Boyd Swinburn from the World Health Organization's Collaborating Centre for Obesity Prevention.
We need policies to 'reverse the obesogenic nature' of the environments in which we live. In his call for action and policy on addressing the obesity epidemic, Gortmaker writes in The Lancet: The state needs to provide leadership and governance in supporting initiatives that are aimed at targeting obesity, including efforts from across society aimed at limiting the lobbying power of commercial interests in policy making.
Health policy should look at 'protecting and promoting health and sustainable food security' at the higher echelons of food policy development. Policy should aim at creating 'trade agreements and agriculture and food fiscal policies' that protect and promote health – for instance, through subsidies, taxes, import tariffs and quotas.
City managers should build into their urban planning a focus that prioritises 'public transport, walking and cycling environments, and safe recreational spaces'; and higher tiers of government should support local authorities by creating the policy landscape that enables municipalities to respond on the ground. Prevention is better than cure, so target people before they become fat and sick through investing resources into promoting healthy living through education.
Consider taxation of empty calories (making junk food and highly processed foods more expensive, and possibly steering people towards healthier and more affordable food). Put surveillance systems in place to accurately monitor obesity trends; map the physical and food environments (for instance, by following the nutritional makeup of foods); and assess the exposure of children to food marketing.
Targeting people in the workplace is another good entry point to address the spreading epidemic by supporting staff engaged in prevention initiatives. This includes 'nutrition, physical activity and prevention of obesity within curricula for health and related provisions' such as for planners, teachers and childcare workers, as well as increasing post-graduate training.
There needs to be greater 'consilience' in terms of fostering partnerships and networking across different sectors within government at national level, as well between the state and civil society, the private sector and locally. Information on a country's national guidelines on healthy living needs to be communicated to the public.
Government needs to communicate its national targets for food industry standards regarding the makeup of foods, how it will permit marketing to children and information on food claims. Finally, The Lancet recommends targeting the public in terms of motivating the need for 'individuals to adopt healthy lifestyles and create healthy environments for others, especially children'.
It is not just a problem of the health department, though, argues Gortmaker. 'Ministries such as finance, education, agriculture, transportation and urban planning, arguably have the greatest influence in creating environments conducive to prevention.'
The Media Shouldn't Bow to Profits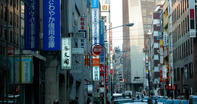 ©Shem Compion
Advertising in Japan.
The media's role is to educate and inform the public. It is a powerful mechanism for spreading the image and reach of brand names, and growing the aspirational nature of many of them. The media machine needs to do more than make empty pledges about responsible advertising and marketing practice.
It can shape the way communities think about their relationship with food. It would be encouraging to see the media taking this role seriously, and not bowing to the profits that big food producers bring through advertising revenue.
Civil Society Organisations as a Watchdog
Civil society needs to continue its watchdog role ensuring that policies and practices on promoting healthy environments and reducing obesity are followed through. They can also 'build a constituency for change' by networking and building partnerships, sharing information and advocating policies and programmes that address obesity.
The Food Sector Cannot Self-regulate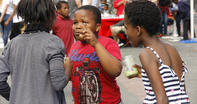 ©Marinda Louw
In its special report on obesity in 2011, The Lancet argued that the food and beverage industry cannot be left to self-regulate. Children, in particular, need protection from the 'predatory effects of markets'.
But as for how the private sector should respond, Gortmaker, writing in The Lancet, maintains: Processed foods and beverages should be reformulated to have 'healthier nutrient compositions', with reduced sugar, salt and unhealthy fats. There should be a voluntary restriction on 'all forms of marketing promotions of foods high in sugar, salt and unhealthy fat' to youngsters.
Food labelling, packaging and health claims should 'meet high standards'. It should 'support public health efforts to create healthier food systems'. And it should support efforts to 'monitor progress towards healthier food systems', including by sharing information that might help the state reach its own monitoring targets that would, in turn, feed into the policy-making process.
International Organisations on Obesity
We need stronger global leadership on the matter of obesity, argues The Lancet, with the United Nations taking the lead. However, the United Nation's 'reluctance to set targets' on addressing non-communicable disease is lamentable.
Gortmaker calls on the United Nations and its member states to 'provide global leadership through commitments for increased funding and policy support for prevention of obesity and non-communicable diseases', to protect and maintain public health in relevant 'trade, economic, agriculture, environment, food and health agreements and policies'.
He adds that they need to 'implement and coordinate policies and funding to prevent obesity across its agencies' and that the World Health Organization (WHO) should 'develop global standards, particularly for food and beverage marketing to children and for nutrient profiling'.
We need to take heed of the following, according to The Lancet: The obesity epidemic will not be reversed without government leadership; business as usual would be costly in terms of population health, healthcare expenses, and loss of productivity; assumptions about speed and sustainability of weight loss are wrong; we need to accurately monitor and evaluate both basic population weight data and intervention outcomes; and a systems approach is needed with multiple sectors involved.
Similarly, the Global Alliance for Improved Nutrition (GAIN) recommends universal salt iodisation; dealing with problems of overweight and obesity through policies that promote diverse diets and physical activity; encouraging more varied diets by increasing market access and assorted agricultural production in rural areas; and national food policies that align with public health nutrition.
By
Leonie Joubert