Immediate Crisis is the Priority
If we are serious about applying the brakes to the region's careening poverty, then we need to drag the issue of nutrition out from under the skirts of the often-preoccupied health sector and find a place for it where, at least from a policy perspective, it will get the attention it needs.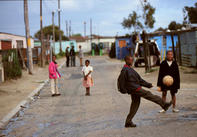 ©Eric Miller
Children play soccer in the streets of Khayelitsha, Cape Town.
A place in the office of the presidency would be a good starting point, argues the Global Alliance for Improved Nutrition's (GAIN's) regional manager for southern Africa, Stefan Engels.
Right now, the Department of Health and its respective trickle-down bureaucracies in the provinces and municipalities have their hands full with the immediate crises of communicable diseases in the country. 'Nutrition is still seen as a health issue, so it gets buried beneath HIV and TB. But if you consider the social and economic impacts of malnutrition, the issue should get much greater attention.'
Getting Attention to Hidden Hunger
Getting good nutrition to children in that critical 1 000-day window seems like one of the most obvious interventions if we are going to raise each generation to have improved intelligence, get better educated and eventually become functioning members of the economy.
The problem, though, is that it is hard to convince politicians to spend money now on something that is only going to reap rewards in 20 years' time when that child finally emerges from high school or university and starts looking for a job.
When the national budget is being divvied up, money is more likely to be given to someone who is coughing up blood and can be cured in a few months with the right medication, rather than to someone with an invisible condition where the intervention is only going to prove its worth two decades from now. Getting the right kind of attention to this 'hidden hunger' is not an easy sell, maintains Engels.
Nutritional Security as a Broader Issue
Moving the responsibility outside of the Department of Health and putting it into the office of the presidency could allow key thinkers to get a bird's-eye view of the broader issue of nutritional security as part of food security, and see where different government departments might find their responsibilities overlapping.
For instance, where do issues of social safety nets fall (the Department of Social Development), or disaster management at a municipal level, or issues of food production (Department of Agriculture, Forestry and Fisheries) or nutrition (Department of Health)?
By
Leonie Joubert