Malnutrition Often Long-term and Invisible
Food security is not just about the volume of food on the national plate – it is about whether people can get their hands on that food, what choices they make when they can get to that food, and also how nutritious that food is. 'Malnutrition isn't about the rumble in the stomach, it's long term and invisible.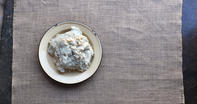 ©Eric Miller
People may eat two meals a day but it might be very simple food, like porridge or pap. There's no dietary diversity because people don't have access to animal protein or vegetables,' explains Stephan Engels form the Global Alliance for Improved Nutrition (GAIN).
'There are also cultural reasons for this. People see green leafy vegetables as the poor man's food. Spinach is one of the most nutrient-dense vegetables in the world but people don't aspire to eat these kinds of things. A McDonald's Happy Meal is aspirational.'
50-100% of Required Daily Vitamins
One of GAIN's approaches is to improve nutrition at the 'bottom of the pyramid' – the poorest, largest and socio-economically most vulnerable sector of the population – through promoting the use of micronutrient powders called sprinkles. They are tasteless, odourless and can generally be added to any food.
One sachet contains fifteen essential minerals and vitamins, and one sachet per day has the equivalent to 50–100% of the required daily intake for those micronutrients. Engels says the organisation is currently working with a pharmaceutical company, which already has a product on the market in South Africa, to see if the costs can be subsidised somehow in order to reach the poorest communities who need it most.
For Children Introduced to Semi-solid Foods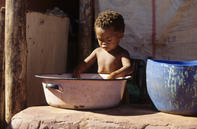 ©Roger de la Harpe
This specific product is designed for children, to slip in some critical brain food before the window closes after those first 1 000 days. 'When you look at infant growth charts, after the first six months when the child should be introduced to semi-solid foods and breastfeeding is reduced, that's often when the growth starts to fall away because the child isn't getting sufficient nutrition.
This would be a good time to start with micronutrient sprinkles.' So far, this particular sprinkle product is targeting higher 'living standards measure' groups. It is already widely distributed in the market and a box of 30 sachets will set you back about R65 to R70, so it works out to R2.30 per child, per day. Engels would like to see that price decrease considerably and ensure that they are sold in spaza shops or even distributed through the public health system.
Success in Kenya
They are looking, in particular, at how to get these sprinkles to pregnant and lactating mothers in the hope that they will introduce them into their children's diet along with the first solids after six months of exclusive breastfeeding. A trial with a similar product in western Kenya showed that mothers were quick to see the returns on spending money on the sprinkles. 'After two months their kids were in better health. There was less diarrhoea and fewer communicable diseases.
This meant their transport costs were down because they didn't have to get to clinics. Using the sprinkles translated directly into decreased cost on healthcare for their infants. They saw an immediate benefit of using the sprinkles. So there's a strong business case for this, too.' GAIN's negotiations with the pharmaceutical company are in their infancy, but the idea is to find ways to distribute the sprinkles to poorer communities and at a price that is more realistic for a bottom-of-the-pyramid purse.
By
Leonie Joubert