Many people in South Africa, both in rural and urban areas, live on the side of poverty that has them unable to access a reliable stream of sufficient and nutritious food.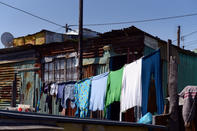 ©Eric Miller
Khayelitsha, an informal settlement in Cape Town.
Whether they are dependent on social welfare or simply waiting for the next paycheck, many families know what it feels like to have to cut back on food or go without. South Africa Online ® looks at how the impoverished access food and are affected by different states of poverty.