Trying to Stay on the Grant System
In a context where having money is key to being able to tap into a city's vast but not necessarily universally accessible food flows, social grants are a critical part of ensuring some degree of food security for a community's poorest inhabitants.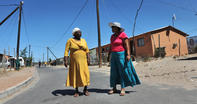 ©Eric Miller
A woman visits HIV positive clients in Atlantis, Western Cape.
In South Africa, it has already been shown how significant social grants are for easing some of the worst degrees of poverty, which in turn will have implications for whether or not a family has money to buy food. In Atlantis and Witsand in the Western Cape, the HIV network volunteers have seen the lengths some people will go to so that they do not lose their social grants.
For an HIV-positive person, a CD4 count of between 200 and 300 allows them to sign up for a disability grant through a physician. Their doctor will usually write them up for a year's worth of grant payouts, and prescribe antiretrovirals. But, come the next check-up a year later, if the person's immune system looks like it is bouncing back, and the CD4 count climbs to above 300, the doctor will give them the all-clear and they will not get another year of disability payments.
Some of the people who volunteers counsel through the support group have admitted that they default on their antiretrovirals before the year is up because they want their CD4 count back down below 300 so they can stay on the disability grant system for another year.
AIDS Affecting Households
The immediate need for some kind of means to survive today – you cannot sneeze at R1 140 a month, when that is all you have – easily trumps the longer-term need to stay alive. That is what poverty does to you. In 2010, Statistics South Africa estimated that 5.24 million South Africans were HIV-positive (that is 10.5% of the population) and, according to the World Health Organization (WHO) and United Nations Programme on HIV/AIDS (UNAIDS), 'the greater number live in urban areas'.
'The links between poverty, AIDS and food and nutrition security are now well established. ..,' says a report by the Development Bank of South Africa (DBSA), 'and there is a complexity of both biological and socio-economic factors in relation to HIV and AIDS, and the direct role that food poverty plays both in respect of risky behaviour and physiological susceptibility to the virus.
As one of many overlapping stressors related to poverty, AIDS affects households further in a number of ways, which include reducing income through unemployment, increasing time spent by caregivers away from economically productive work, and increasing dependency ratios within households, all of which have a negative impact on the ability of households to secure sufficient food for their needs.
Having AIDS also increases calorific and nutritional requirements, as does ARV treatment, placing additional burdens on household members responsible for meeting food needs.'
All Pay Day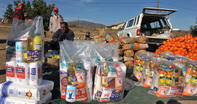 ©Eric Miller
On 'all pay' day smouse arrive in the dusty Karoo town of Prince Albert, a four-hour drive from Cape Town, with hampers which they deliver to their customers' homes.
Those living in areas like Atlantis and Witsand who are reliant on a social grant as a main source of income often have to make use of informal markets to meet their requirements for basic necessities. An example of how informal markets work comes from a town in the Karoo some 350-odd kilometres to the east of Atlantis. It captures the bustling enterprise of this sort of endeavour that is entirely off the Receiver of Revenue's radar, but equally important to the neighbourhood in which it operates.
The people of Prince Albert call it 'all pay', the day when the social grants get doled out at the local post office: pensions for the over-60s, unemployment, disability grants and child grants. On 'all pay' day, the dusty little Karoo town erupts with life. The pavements, which usually slumber through the rest of the month, become a trail of loud, vibrant, colourful markets.
Everything from plastic toys, glue sticks, clothes pegs, batteries, T-shirts, scarves, socks, beanies and underwear is spread out on trestle tables or on cloth on the ground. There are braais sizzling with half chickens, wors, ribs; enormous enamel tubs of potato salad; mealies darkening over the coals – padkos for the passing pedestrians. The mood is festive and almost celebratory. The bottle stores, too, report a roaring trade on 'all pay' day.
Food Hampers
It is the smouse, the travelling salesmen, who arrive from Cape Town, some four hours' drive away, who make this market so unusual compared with all the other informal traders that you will find on pavements near train stations and taxi ranks in the bigger cities. Abdul (18) and Faried (40) from Delft in Cape Town say they drive up to Prince Albert and many other towns in the Karoo every month-end, following the 'all pay' payouts.
They load up their bakkie with the pantry basics, bought wholesale in the city, and package them into different hampers priced at R450, R300 and R250, depending on the contents. Hampers are big business in Prince Albert. Most of the local retailers also package up basic groceries into parcels, which they pitch at different prices.
Just about everything you will need for a month, in one easy purchase: white bread flour, mealie meal, samp, beans, potatoes, sugar, packets of yeast, vegetable oil, cordial, split peas, salt, cans of baked beans, toilet paper, a bar of Sunlight soap, washing powder.
The only fresh food in these hampers are things that have 'legs' – longevity – such as potatoes or citrus fruit. The benefits for people with meagre resources is that they get all the basics they will need for a month, without having to trawl the shelves of their local shop and decide how to divvy up the monthly budget.
A Month's Supply of Groceries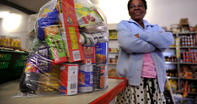 ©Eric Miller
A woman buys enough food to last the month.
There is also the matter of storage. Although many of the families in these communities are in RDP-style houses that are on the grid, not everyone has a fridge or freezer. Dried or canned foods like these do not need electricity to survive the month. For cash-strapped families, dried and canned foods are a safe investment. What makes Abdul and Faried competitive, in a market where the local shops have their own well-priced hampers, is the fact that they do home deliveries.
For no extra fee, they will drop the hamper off at their customer's home. A month's supply of groceries weighs a fair bit, and for a community where most people get about on foot, having a bakkie to deliver their goods is a huge bonus. People can come straight from the grants payout queue and get an entire month's groceries right there and then.
Before the debit orders come off their accounts, before school fees, tuck shop money or luxury buys, at least the food is bought. One family of three – for instance, a home with two pensioners and one employed nursery worker living together in a one-room block in the township of Noord End who were visited during the course of this research – buys one R300 hamper per month.
Maraai Isaacs, the main breadwinner, generally buys a hamper with samp, beans, dried peas, canned beef, pilchards in tomato, canned vegetables and baked beans, sugar, oil, vinegar, packets of curry and borrie (turmeric), soup, bread flour, salt, powdered milk, yeast and soya mince. She will buy meat, too – a half sheep, usually, cut up into meal-size portions – on account at a local butcher in town, something which sets them back about R600 a month.
Maraai seldom buys from the small shops in her community here in Noord End because they are too expensive, she says. In exchange for being spared a long walk into town, you will pay R8 or R9 a loaf of bread here. In town, you will get a loaf for just R5.
And R3 matters when you are this close to the breadline. By the end of the day, once the grants have been paid (R1 180 per month for the over-60s, R1 180 for the unemployed, R240 per child for the under-eighteens) and a large part of the money spent, the smouse pack up their mobile shops, the wares folded away into bale-sized bags and the tables collapsed once more. Just like that, they are gone, the markets disappear.
The following morning, the streets and pavements have returned to their normal state – sleepy, dusty, quiet, but for the occasional rush-hour bustle as people walk to and from work or town.
By
Leonie Joubert