Not a Crumb of Food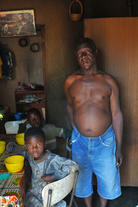 ©Eric Miller
Mazondo Ncongwane (standing), his daughter Temvelo (back) and stepson Stewart Andiswa.
Temvelo tackles her breakfast the way any seven-year-old might, with the ambivalence of someone in a no-man's-land between the tugging demands of a growling vacuum in her stomach and a sensory boredom with what she needs to swallow to fill that space.
She holds the plastic bowl, chemical yellow, suspended above her lap while her spoon prods at the strips of white bread that have bloated into marshmallow shapes in the sugar water.
Her twin Nomvelo and stepbrother Stewart Andiswa, also seven, are tucked in around the kitchen table with her, their plates resting on the tablecloth whose motifs taunt them with all the things they will not have to eat today, tomorrow or the next day: brash two-dimensional pineapples, luscious peppers, tomatoes, bananas, pears, grapes, watermelon, leering out from beneath a shiny vinyl coating.
Behind Temvelo, two carbon-black aluminium cooking pots hold a few crusty remains of a previous meal: spinach, the last smears of it hardened into the curve of the bowl; dried-out pap, hard as a chunk of days-old bread. Propped up against the wall behind them is a local newspaper insert, folded into quarters, flashing a headline that begs an unfinished question:
'Mamelodi Sundowns Can they still.. . ' And the rest of the page is torn away, leaving the thought in frustrated suspension. Besides the meagre leftovers and today's bread given by a nearby soup kitchen, run by volunteers from a local church, the cupboards of this unlit kitchen in this small brick-and-plaster house in the town of Matsapha, outside Swaziland's industrial hub of Manzini, are utterly empty of any food. There is literally not a crumb of food in them.
Work is Hard to Find
When 53-year-old Mazondo rouses from his bedroom, bare-chested and lethargic, it is ten in the morning and the sandy yard is beginning to warm in the late-autumn sun. This is not a man who has a job to rush off to on a Monday. He has not worked in three years, he says from the chair he finally settles into under the avocado tree which he planted in his yard several years ago.
Work is hard to find these days, so he makes his living – if you can call it that – collecting the detritus of Matsapha's weekend revelry: discarded beer bottles wrapped in some of the more recognisable labels: Black Label, Castle, Hansa. A local recycling depot will buy these by the kilogram. There is no market for plastic bottles, though.
Otherwise he will pick up tin cans from around the neighbourhood, beat them flat and sell them to Nomakanjani Scrap and Recycling for one lilangeni per kilogram – that is R1 a kilogram. Sometimes he collects two, three or maybe even five kilograms, he says. For a while, Mazondo's deepening state of joblessness forced him into an informal dump site about an hour's walk from his home where he would wade into the stinking hillocks of waste to collect glass, metal and, occasionally, even food.
Picking Through the Dump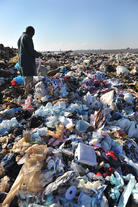 ©Eric Miller
People pick through the Matsapha landfill in search of food or something they can sell at a local recycling depot.
Scouring the dump was a dangerous business because a community of ruffians had settled in around the lip of the dump, their shacks marking their turf. But that changed about a year ago when the Matsapha Town Board threw a fence up around the dump, formalising it into a properly managed landfill.
Now the shacks and porous edges are gone, replaced by a single entry point with a boom, a weighbridge and a site manager. A municipal hierarchy decides who gets into the site and who does not. They try to control, if not entirely curb, the small bands of opportunists who still find their way in each day and pick through the dump to look for an occasional packet of food thrown into the bin somewhere higher up the waste chain by the town's richer residents before the garbage finally made its way here.
Now that Mazondo cannot get into the dump any more, he has to work the system in a different way. So he steps into the waste stream at that point between when a tin can or beer bottle goes from being a commodity – a cold drink in someone's hand – but before the empty, discarded item gets picked up off the pavement or out of a bin by the municipal cleaners.
The man's bare-plastered rectangular house recalls a time before his previous wife died three years ago, when he could find casual labour as a gardener or the occasional bricklaying job. It was built in a time when he could scrape together the cash to put up a home with door frames and windows and sheet metal on the roof for himself and his family. But things are different now.
Bringing in a Bit of Cash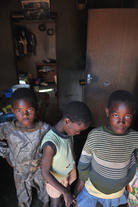 ©Eric Miller
Twins Temvelo (right) and Nomvelo (centre), and stepbrother Stewart (left), after breakfast of white bread and sugar water. It is common for children in poorer communitites to start their day with a plain, nutrient-poor carbohydrate, and something sweet to drink.
His name, he says, means 'angry man', but his face does not look it. Rather, it looks drawn down by the heaviness of fatigue, although the avocado tree's shade softens the trenches that have carved themselves into his skin like parentheses on either side of his mouth.
His eyes gesticulate towards the canopy above him, and he explains how he planted this tree, and the mango next to it, a few years ago. There is a peach tree behind him and a few diminutive banana plants on the other side of the yard. Since losing the small profit Mazondo's late second wife used to bring home from selling fruit and vegetables on the roadside (he has another family of six children with his first wife but he does not see much of them), the Ncongwane family gets a small infusion of cash each summer when the trees are in fruit.
But it seldom amounts to more than 200 or 300 lilangeni a season, and they lose a great deal of the crop to theft. The peach tree does not help much because the fruit is diseased and rots quickly. 'I tried vegetables but the rats ate them.' The widowed Mazondo married his new wife, Khangezule (50), in what seems to be a strategic pooling of resources.
Now she lives here with her son Stewart and although she is also unemployed, she brings in an occasional bit of cash from washing neighbours' clothes by hand in big plastic tubs she keeps out at the back of the house.
Worn Away by Deprivation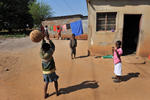 ©Eric Miller
Forgetting their sparse breakfast, twins Temvelo and Nomvelo, and stepbrother Stewart, keep their soccerball airborne.
All the while, as Mazondo selects only those pieces of his life that he is willing to lay bare, his children gallop around the yard, working a tatty but surprisingly air-plump football into a frenzy of articulated trigonometry. Their full-throttle take on the ball game paints a deceptive veneer over their true state of health.
Beneath their giggles and glowing youthfulness lies a likely crumbling infrastructure as a lack of proper nutrition leaves their bodies wanting. But micronutrient deficiency is almost impossible to see with the naked eye, which is why this crisis in malnutrition can remain such a hidden, secret malady.
Mazondo looks like a sad man, worn away by the grinding abrasiveness of deprivation, want and the stress of trying to provide for his family. This links into efforts to try to quantify how the burden of hunger impresses itself on people's emotional well-being.
By
Leonie Joubert