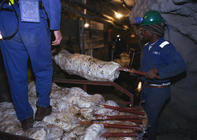 © Eric Miller
Inside a diamond mine in Kimberley.
In order to make a living many people opt to leave their rural homes for cities or mines where they can earn an income to send back to their waiting families. This is the reality of migrant labour.
SouthAfrica.co.za explores the migrant labour trends in South Africa, as well as the lives of migrant labourers and the ones they leave behind.