What food means to us in today's world is very different to what it meant hundreds of years ago. Industrialisation changed the way we grow, process, package and consume food.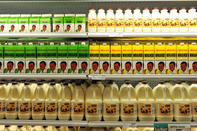 ©Eric Miller
A supermarket in Durban, KwaZulu-Natal.
For most people living in cities food, the need for food is about getting the most convenient, satisfying and affordable option to fit with their busy lives. South Africa Online ® looks at how our relationship with food has changed over the years under the influence of industrialisation and urbanisation.