There are various communities in South Africa that suffer from malnutrition, caused by a range of socio-economic issues. Every day, people are making unhealthy food choices that have a negative impact on the body and mind, particularly that of young children.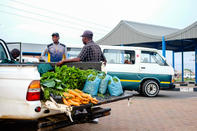 ©Andile Bhala
Impoverished communities often rely on street vendors for healthy food options.
In an effort to uncover the reasoning behind this, science writer Leonie Joubert chatted to a number of people from different communities in the country about their choices regarding food, health, facing adversity and the painful reality of poverty.