Diabetes and Anxiety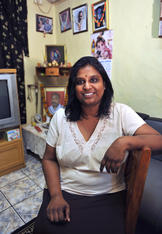 ©Eric Miller
Julie Lingah.
As an occupational therapist with many years served in the mental health field before moving into academics, Julie Lingah can see where the stress of her mother's diabetes made an existing anxiety disorder crowd in on her life so much more in her final years, particularly as her window on the world became darker and more tunnel-visioned.
Julie would often have to rush her mother to hospital. Palpitations, that is all it was. But for the old lady, she believed she was having a heart attack; it was real, she felt herself dying.
Enough Food for the Whole Community
When Julie was a child, her dad was a legend. At Easter, he would make doughnuts and hot cross buns – enough to feed the whole street. 'We're not Christian, but we celebrate anything and everything,' she says almost gleefully. In those days, the children virtually lived out on the streets and most people knew each other, so they would all come over for John Edward's Easter confection.
Today, though, the street is cordoned off by a group of motley youngsters who own the tarmac, their soccer ball sproooiiing from boot to boot. The cars know their place and wait for the game to pause before creeping slowly through the group, which quickly resumes the game. It is just shy of Easter now, reminding her of those days. 'Hmm! Ja, they would all come and eat with us.
He would make a whole stack.' And then there was Purattasi. John would cook up huge pots of sweetmeats – enough for 150 people, easy – and package them up into little parcels for every one to mark the end of the Tamil fast every October. A month of no eggs; no meat; no movies; a month of staying home, staying indoors; a month of pure vegetarianism.
A month of abstinence, reflection and praying to Lord Vishnu, followed by a breaking of the fast: chariots, crackers, fire spinning in the streets, the works. The entire community would wander by during the course of the festivities to pick up John's small packets of sweetmeats.
Indian Cooking is About Sharing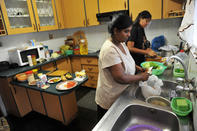 ©Eric Miller
Julie and her niece prepare dinner for the family.
Catering, Chatsworth-style, is still a communal affair. Even though she does not really know many of the children in the street these days, cooking a meal is seldom for just one serving, one family, one sitting.
When she visited the spice market earlier that day, everything was big: the colours of the spices were fiery reds, oranges, yellows and ochres; the aromas of the masala, tikka, chilli, jeera and curry powder were so demonstrative they pressed themselves into every nook and recess in the air; basmati rice comes by the 5 kg bag; a tower of stacked aluminium pots stands taller than the customers, each pot big enough to be a cauldron.
Indian cooking is about sharing – en masse. When Julie throws together the rice and lentils for a chicken biryani later that night, it is 'one cup for the family, and another handful for whoever shows up for dinner'. That is just how it goes. Deep fried, loads of oil, flavours and spices as muscular as a bull, and plenty of food for everyone. Delicious food; lots of it; rich as a king's feast.
Death of a Father
When Julie's father died, it was like the sudden felling of a tree. Her mother, Meenachee's demise at 65 was slow and incremental, and it was nearly three decades in the making. Her diabetes was picked up when she was pregnant with her youngest daughter, about 30 years earlier.
But a late diagnosis, years of inadequate medication and blood sugar levels that could not be managed through diet alone resulted in an insulin-dependent state, although it was only in the last ten years of her life that Meenachee started injecting herself. With her occupational therapy training, Julie recognised the signs of a deteriorating condition in the later years: the numb feet, the burning sensations, the heightened anxiety, the fading vision.
Because the diabetes pulled her vision closed so slowly, Meenachee adapted without the family realising it. Eventually, though, little things began to give it away: a stumble; a fight over the colour of a sari just before a wedding; when she put a teacup in its saucer upside down, and poured the tea; the untidy lines in the sewing.
Eventually, she had to abandon her dressmaking altogether, and her husband John – a chef at the swanky King Edward Hotel down on the Durban beachfront for years, then later a meter reader – became Meenachee's eyes, cleaning, cooking more often, going to the Saturday markets, making breakfast for the children. Julie recounts her father's passing: 'When my dad passed away, she was sitting at his coffin and crying and, saying, "Please, give me your eyes so I can take care of the children".
I will never ever forget that. In spite of everything that was happening, that's all I could hear her say to him, "Give me your eyes". I think my mum willed herself to stay alive until we were okay, because we were totally dependent on our parents. I think my mom kept herself alive till she knew that we would be okay on our own.'
Facing the Reality of Health Issues
In the final months, the once big matriarchal personality retreated into herself, probably lost in her pain and an acceptance of what was to come. 'My brother and sister were in denial. For two weeks I had to live with this knowledge, I knew my mum was going to die, but nobody else would believe me.' And then, one day, it came.
Meenachee pushed away her insulin shot that morning. 'Just give me my tea,' she told her daughter. Within hours, she was rushed to hospital with swollen feet. Her kidneys were closing down, her circulation cutting off. When that happens, the heart is generally next to go, says the occupational therapist in Julie. And, just like that, the three adult children were orphaned.
In spite of living with diabetes for years, in the shape and form of her mum's failing eyesight and fading life, it seems Julie did not want to face the reality of her own health issues. Her doctor ran a few tests about eight years ago, knowing her mother's history and her own heightened risk for diabetes. Sure enough, the blood results came back confirming she was insulin intolerant – pre-diabetic – and she was given a prescription for a drug to help regulate her blood sugar.
But for three years she did not fill out a script. 'I wasn't in denial. I knew I had it, but I just didn't care to do anything about it,' she says with candour. Even though she once admitted she would love to be slim and trim, like many of us she does not really want to have to 'do the work'.
She loves food too much, she admits, a self-conscious smile tugging at the edge of her mouth. And let us be honest, reversing two or three decades of habit, culture and lifestyle that have bulked up a body with excessive weight is not always as simple as merely deciding to go on a diet. Behaviour change at this level is hard.
By
Leonie Joubert