Hitching a Ride to the Shops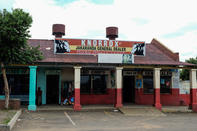 ©Andile Bhala
Smaller retailers like this serve as an important fallback for poorer households.
It is Saturday morning, and Cornelia has used an opportunity to hitch a ride to a nearby shopping centre on the roadside near Wonderboom where she buys some groceries.
On the return trip, she stops in at a local general dealer where the shopkeeper often gives her a special deal on packets of varkvelle (pork skins). 'That man's very kind,' she explains. 'Sometimes he gives me a few bags of mealie meal or a bag of pig pieces for the Sorgsentrum (care centre).
If I send someone down to buy meat from him, I say, "Tell him it's for Cornelia", then he gives more than I should get.' Smaller retailers, spaza shops and informal traders emerge as an important fallback for poorer households in a way that big retailers cannot. Even though the food chains have bulk buying power, which can push down the price of food, they seldom operate on credit or offer favours the way the local version of the old mom-'n-pop stores still might.
A Typical Shop
One roadside shop is your typical country store. On the noticeboard at the entrance of the shop, sandwiched between Prestiked advertisements for long-legged fox terrier puppies and hand-scrawled truck-hire fliers, is a notice from a man looking for a wife: Interested in a relationship/marriage with an older man?
Healthy, active, businessman who is financially independent, looking for a partner and is struggling to find the right one. Are you: Between legal age and about 40 years old Pretty/attractive Neat Fun, good sense of humour Sociable when needed Not a smoker or drug user Loves the outdoors – 'quads', camping etc Not too overweight Not overloaded with 'baggage' and big problems Not a chancer Still interested? Call me on. .. And the hopeful man gives an 083 number.
Asking for Help
Inside, Cornelia strolls up to the glass-fronted meat counter lined with stainless steel trays of boerewors, droë wors, steak, mincemeat, biltong and chops of various cuts. She asks for the butcher by name, but only to hear from the hair-netted woman behind the counter that he is not there.
There is a flicker as her confidence goes into retreat, but it is almost imperceptible. Cornelia recalculates, and nevertheless tries to ask about the bags of varkvelle. The shop assistant does not seem to understand what she is asking for, drawing a flush of irritability from Cornelia. It is possible she is papering over her embarrassment, but something is definitely off kilter.
Here she is, trying to ask for help from someone outside of her network: another woman, but black, and employed, her gloved hand hovering, waiting for an order of meat that she can actually measure out on the weighing scale to sell, for money. The varkvelle idea is abandoned. Cornelia salvages the moment by asking for a few thumb-thick pork chops and a plump roll of wors. Enough for her and and her partner Kobus, and maybe some for her friend Annetjie, too. No pork offcuts for the centre's kitchen this week.
Saturday Afternoon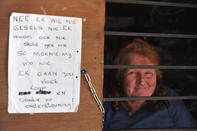 ©Eric Miller
Cornelia Terblanche occasionally holds down the fort at Annetjie's tuck shop.
Later that day, Cornelia's ruddy face can be found peering out from behind the horizontal burglar bars of Annetjie's tuck shop. The plywood shutters have been swung out on their hinges: it is open for business. They call it a tuck shop, but its shelves say it is much more than that.
Cornelia serves a red-headed boy who looks as though he is on the lintel of adolescence, with a crew cut and mucky face. She steps aside for a bit, revealing shelves that are a bit bare.
Annetjie's husband has gone into town with the bakkie to stock up, she explains, but it nevertheless has the basics for a remote camp like this: loose toilet rolls; Crinkle Cuts and chilli Doritos; Boxer tobacco; chew tobacco; Beacon chocolate; Red Mouth sherbet; suckers; Cadbury chocolate éclair toffees; Crunchies; Tex; Astros; Lunch Bars; mosquito coils; cooking oil; sugar; cans of pilchards and baked beans; Sharp cigarettes; diamanté rings, R5 a pop.
The shop owner's business ethic is stuck on a handwritten sign on the inside of the window shutter: 'NO I DON'T WANT TO TALK. I also am not going to give credit so don't ask me I WILL SWEAR at you. Buy and thank you for support!' A few people traipse over to the shop window through the course of the afternoon, buying one or two things, while the shadows grow longer and the dinner bubbles away on the gas cookers in the kitchen next door.
Not much else is happening at this time on a Saturday. Some lounge in camp chairs outside their shacks, working their way through some or other book. One or two others have their first drink of the day going. Most people stick to themselves and their families.
There is not much mingling for a community that lives cheek-by-jowl in a place where there is little else to keep yourself occupied with. Even after months or even years of living side by side, neighbours often do not know one another's surnames, or where they come from, or what brought them here. Maybe it is too painful to ask. Maybe it is too painful to tell. Either way, it is strangely safer to keep yourself to yourself, not to get too involved.
Thoughts of Leaving
Cornelia has thought about leaving here a few times. The temptation of a real house. With a bath. And she did have an opportunity to leave, once, years ago, something which became a chance to leverage a better shack out of the owners, on a better part of the plot, closer to the amenities where she is now.
Another opportunity to leave came up recently. It would have meant moving to a settlement a few kilometres away, and into a proper flat. But it would have cost her over R1 000 a month in rent, and she would have had to find a whole new way to make ends meet outside of the informal economy of Sonskynhoekie where she has been doing so well.
No, she says, she thought God had told her she belonged here, looking after the people of Sonsynkhoekie. So she decided to stay. As she meanders into her fifties, Cornelia Terblanche is fairly pragmatic about most things – about her life here, her survival, her partner, even the fact that she never had children, something which left her heartsore when she was younger.
'But as you get older, you accept everything.' She is back at her mid-morning perch, overseeing the breakfast queue, the sun toasting her flaming orange locks. Another moment passes, unremarkable, unstressed. Another moment in another day in this world far from the edge of Pretoria's rat race. 'I don't need millions. I just want a roof over my head, I want to eat,' she gives a throaty laugh. 'And I want to be able to smoke. And I want my Coke.'
By
Leonie Joubert