The following is the story of Winnie Maneli, a Xhosa mother who saw the growing of her family from poverty to success. A seasoned cook, she explores recipes of both a traditional and modern nature providing a look into food and food security from the kitchen of a South African with both urban and rural background.
'You wash the samp – this was a cupful - so a slightly coloured water comes off, which is the starch,' says Winnie Maneli, folding the gruel of boiled mealie pips and sugar beans in on itself with the scoop of an ample serving spoon. 'There must be lots of water – I think I had three cups in here – because you are going to have a big fire, and you put it to boil.
Then you pour your beans out like this... ' A handful of dry sugar beans clatter out onto a plate on her kitchen table, where she sifts through them, scanning them for imperfections or gravel. 'I'm removing the dirt, which is usually particles of soil and small stones and beans that have not formed properly. After about 20, 25 minutes, you add them to the samp, and you replenish that water – it must be kept high.'
Traditional Methods Replaced
©Eric Miller
These days factory-milled samp is ubiquitous in the food aisle. In the old days, women and girls would use a stamping block to pound the dried mielie kernels for umngqusho, samp and beans.
For the purpose of her cooking demonstration, the retired headmistress has her umngqusho in a small aluminium pot, which she cooked up on the electric stove behind her the previous evening. Traditionally, it would be cooked in a three-legged cast-iron pot and slung across a fistful of small embers in an outdoor hearth where it would be left to boil away for three hours.
Back in the old days, the women and girls would drop the dried mealie pips – the size and colour of stubby teeth – onto a stamping block and they would pound them down to coarse grit. Today, though, the samp is factory milled and, like the sugar beans, bought for cash down at the local superette. 'No bread; no refined flour; no refined mealie meal.' Winnie trawls back through her memories for what food preparation was like for her people before things became so modern and Western.
'Mealies were stamped at home, and the chaff would fall this way and the grains would be washed, that's the genuine thing.' When she arrived at Dyamala village, outside the university town of Alice in the Eastern Cape, it was in the mid-1950s and the mealies were still stamped in the traditional way.
'You don't find many of the utensils for these kinds of recipes anymore though,' she says. Stamping blocks and grinding stones have been replaced by the plastic and paper bags that line the shelves of just about any food shop, anywhere in the subcontinent, selling for anything from about R7 for a kilogram of samp and about R20-odd per kilogram of sugar beans. Brand names like Iwiza, Ace, Champion and Lion are so ubiquitous, they have become like white noise in the retail habitat.
A Manuscript of Traditional Recipes
Winnie lifts one side of the pot by a handle, a stubby-winged black appendage, to tip the translucent milky-brown water away from the gruel, and scoops some of it up with the spoon. 'Your fire for the first hour must be quite strong. Then reduce it to just medium-simmer. When that second hour is over, you take out the juice for the baby.' She pours off the spoonful of liquid into a glass jug. 'Use a cup, because your pot will allow you to do that.
This is what you do for the babies, from time immemorial.' Another spoonful gets ladled into the jug. 'It's called inembe. These old men and these grannies will tell you, "Look here, I was fed with inembe, I'm strong." And it's believed that it does make the child strong.' Later, Winnie pulls out the stapled pages of a thin manuscript, a collection of 'traditional' and 'modern or semi-traditional' recipes that she has gathered from the collective memory of the grannies in Dyamala and typed up on her home PC, along with a bit of historical context or the occasional anecdote.
She was hoping to have it published by a visiting American church group, to show them how the amaXhosa used to eat, how they eat now, how their diet has been shaped by history and apartheid and working for 'madams' and the changing flows of people between the countryside and the cities. The thick liquid, the inembe, gives babies the protein from the beans and the starch from the samp, her manuscript states matter-of-factly.
Living Through History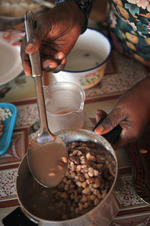 ©Eric Miller
Inembe, the starchy liquid scooped off the samp and beans, was fed to babies for "time immemorial" and was believed to make a child strong.
During the course of her 77 years, Winnie Maneli lived through the outbreak of a white man's war in Europe that recruited black men to fight in it. She saw the rise of the malevolent Verwoerdian experiment with its separate development and Group Areas Act and petty immorality laws and labour restrictions.
She lived through the fall of the man behind it, at the hand of Dimitri Tsafendas. She lived through the creation of the homelands, the dompas (pass book), the Soweto riots, the various states of emergency, the banning and eventual unbanning of the ANC, the release of Nelson Mandela from prison, the bestowing of universal suffrage, nearly two decades of emancipation, and, for better or worse, the opening up of South African markets to the global economy.
She bubbles with delight when she remembers her mother's recollections of the Second World War, which broke out shortly after her family moved to Cape Town from the Eastern Cape. The Xhosa community on the Cape Flats was buzzing with rumour. 'So much gossip was going around, spread by people, some of whom had never been to school.
In the trains and buses, to work, people were saying, "Wow, Hitler is in Adderley Street, and he's coming for you".' She dissolves with mirth, imagining it all. 'My mother used to laugh so much, even in the train she says "we went in twos to the loo, in case his soldiers were on the train".' But she skirts the injustices of apartheid with a polished politeness that is as genteel as her tea, which she serves in delicately pink floral china, accompanied by home-baked chocolate and vanilla muffins.
Throughout all of that history, the one enduring reality for the black people of the Eastern Cape – her people, the amaXhosa – has been that of poverty. And her manuscript is shot through with it. Her words are not accusatory or angry. There is no hand-wringing or finger-pointing or unanswered self-reflection. It is just there, in gentle tones, inside phrases that are forthright, matter-of-fact.
Traditional Xhosa Meals
Winnie's unpublished book alludes constantly to how people with scarce resources coped. Another thing that is ubiquitous in her manuscript is the variety of meals that are made from mealies.
And, by golly, do the amaXhosa have a few: umngqusho, stamped mealies and beans; ingxangxa, yellow or white mealies with amasi, the thick, curdled sour milk traditionally made in a calabash but now available in milk cartons at most shops; umqa womxoxozi, melon porridge; isophu, a bit like a soupy, runny version of the samp and beans staple; isigezenga, mealie meal bread; umxhaxha, a green mealie and pumpkin porridge; amarhewu, a drink made of mealie meal, flour and water 'to quench thirst in the long summer days'; mphokoqo, a stiff or crumbled porridge made from maize meal and served with amasi; ash bread made with mealie meal and flour and cooked over the open coals; and imifino, a stiff vegetable porridge which has evolved into the spinach and cabbage dish served up on so many township plates to this day.
The variation in this and other traditional recipes, she writes, confirms the fact that poverty has been the lot of the Black people for so long that they have devised interesting ways of satisfying hunger, and one of them is mixing traditional dishes with ingredients used in the homes of Western employers.
Building a Life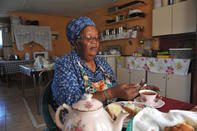 ©Eric Miller
Winnie Maneli talks about her family and histroy over tea.
If Bantu Education was supposed to turn out 'garden boys' and 'maids', the system failed spectacularly with the Maneli family. Winnie's and her late husband Xhala's bookshelves bear testimony to this in rather grand style:
Arnold J. Toynbee's A Study of History; volume after volume of weathering Encyclopaedia Britannica and Collins Encyclopedia, leaning this way and that into a tidy herringbone pattern, book-ended by an Oxford-published Latin dictionary thick enough to stop a door; The Roman Poets of the Republic; South African Criminal Law and Procedure; Fishes of Lakes, Rivers & Oceans.
Winnie did manage to get through the system before the state watered down education for the country's black population to an innocuously thin version of what it should have been. She got her matric certificate at Langa High School in Cape Town before heading back to the Eastern Cape to start her BA in English and Latin at Fort Hare University in 1954.
Then she got her teaching diploma in 1960 and an Honours in Latin in 1982. And at a time when so many black Eastern Cape people were streaming down to Cape Town in search of work, she and Xhala, also a teacher, stayed behind in the classrooms of many schools in the Victoria East district, in the vicinity of Alice, Fort Beaufort and Grahamstown.
Now, when she natters away with a limber conversational stride, it is about global warming and COP 17 (the United Nations climate summit held in Durban late in 2011) and how her community needs to learn more about the consequences of pollution and how there should be better waste management in Dyamala.
She talks over tea served with all the required formality at her dining room table, before she leads her guests into the lounge to sit back in an ivory leatherette suite with its elaborately pressed detail, the crocheted throw over the couch, the arum lily cushions. This is a bricks-and-mortar house which she and Xhala started building in 1982, and they finally finished the last extensions in 1988. They got the plans from a white teacher whose house they had seen once and admired.
Winnie's Family History
The world Winnie and her late husband, Xhala, created for themselves here is a world away from the circumstances that first drove her family down to Cape Town from rural Ncoti near Mthatha in the Eastern Cape. Winnie's newly-wed mother, Nomavuso, had just lost her first baby, born in 1932, to what she suspected was malnourishment.
Her second baby was also poorly, probably for the same reason. And her husband was 1 200 kilometres away in Cape Town. 'Men were waking up to this migrant labour,' Winnie says as she meanders through her family history. 'They were waking up to the idea of going to get work and get money instead of staying at home and herd the cattle and get no money sitting there the whole day.
'My father is said to have gone to Cape Town a year after they were married,' she recalls. 'He and my mother married in 1930, and as was the practice, the men had to go and seek work and leave their young brides behind.' Her narration of the family's history is cordial and formal, her recall so precise that it sounds as though she is reading aloud from a text in her head. Nomavuso, her mother, stayed behind with her parents-in-law for a few years after that.
But following the death of her first baby and with a sickly second child, she decided to defy the local 'traditional requirement' that wives should remain behind and tend the home while the husband worked in one of the big cities, only occasionally returning home. 'My mother, she was pulling too hard,' Winnie explains. 'She said the first baby died because she was undernourished.
And she herself was starving, couldn't keep babies long on the breast.' The cause of death of her firstborn was not confirmed by a doctor – doctors were not easy to get to because of the distances one needed to travel back then, and there was not much by way of public transport – but her mother always believed it was a lack of good nutrition.
'It was a life where you were pulling hard, you were sacrificing your health because you travelled distances with a baby on your back, pulling one by hand, walking on foot, sleeping over at some home that you meet on the way, and continue the journey the next day. 'She wanted togetherness, she told us. She wanted to stay with her husband, to eat from the same table.'
And when her husband, Mazwi, sent money back to them through the postal system, it was not that much either, since he had to use some of it to survive in the Cape. 'And I think she had a rebellious nature.' Winnie's eyes twinkle when she remembers how, as a university student, she had finally asked her mother how she could dare to break with tradition and follow her husband to the city.
'My father would say, "Don't dream of coming to Cape Town because you'll be defying the in-laws" and she said, "I married you and I'm coming with your sick children".' And so she went, anyway, taking the two-day walk to the railway station in Mthatha with nothing but her two young children, money for the train tickets and whatever else she could heft on her back. Nomavuso joined Mazwi, who was already working for a German couple who ran a small shop on a farm near the Portland Cement factory in Nyanga, where Winnie's vague recollection of this detail is that her paternal grandfather had a job there as a watchman.
'My mother was a maid for this shopkeeper, and my father was the boy looking after his farm animals. It's a job, his first job, working on a farm looking after and feeding the animals there and doing the hard work, helping repair the car. But it was very relaxed and homely. I don't know what they were earning. We were not interested, we were playing outside with the chickens and things.
And they had a shop in the front, a big shop, and there was no problem about clothing because we got hand-me-downs from the shopkeeper. My mother was working hard, kneeling and scrubbing.' They eventually settled in Langa, the oldest of Cape Town's black townships, where she and her siblings went to school and she later matriculated.
From Poverty to Success
Now, at 77, Winnie is back in the Eastern Cape, having returned in her early twenties to train as a teacher. She met Xhala Maneli, married, settled into the village of Dyamala where Xhala's family comes from, and has never left (barring their teaching gigs in nearby villages and towns).
After a lifetime, her lounge is comfortable and elegant, echoing with memories of the family that passed through this house: pictures of her late husband on the wall, dog-collared in his role as minister which he became later in his life; her children Nondwe, Monde, Nozipho and Nompumelelo, all of whom have moved to cities like Cape Town or Port Elizabeth (except for Monde, who passed away in 2000), are working and raising her eight grandchildren.
She is gently effervescent when she tells how one of her grandchildren recently finished his first year in human movement science at Nelson Mandela Metropolitan University in Port Elizabeth with four distinctions. Another is in senior school at a well-known East London former Model C school. In three generations, the women in her line have gone from life-threatening poverty to becoming successful, working professionals. The future looks blindingly bright for some of them.
'My mother was not really highly educated, she had only gone up as far as Standard Six, but to me she was a role model, a brave woman, a bold woman, a very strict woman, a woman who would do what she wanted. [Perhaps] she has rubbed that onto me and I have rubbed it onto my children.'
Winnie must have been especially dear to her mother. After the first baby – a girl – died, Nomavuso later told Winnie that she was only happy again when she had another girl. Sitting primly in her armchair, Winnie puts her hand up to her ear, fingers splaying loosely in the air like a drift net hanging in the current, hoping to catch sounds that might sweep through. 'I brought peace to her heart,' she smiles softly. And so she became Ntomboxolo, 'a girl of peace'. Ntomboxolo Winnie Ntlokwana.
Winnie's Own Dinner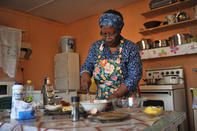 ©Eric Miller
Winnie makes her own dinner of meatballs, remembering how her mother's cooking became more Europeanised once the family moved to Cape Town.
Eventually, Winnie sets aside her cooking demonstration for her guests – the pot with umngqusho, the inembe, a few other bits and pieces – and gets down to making her own dinner. This meal, though, could not be further from the contents of her own recipe book.
She scoops out about a quarter of a punnet of ground beef, bought at a shop in nearby Alice, its price label branded with a recognisable supermarket name and a description of the produce: student mince. Next, she mixes in chopped onions, one egg, two tablespoons of self-raising flour, grated carrot and a tomato soaked in boiling water to soften the skin.
She pinches some of the stiff mixture into her hand and rolls it out into orbs the size of golf balls. 'Meatballs,' she explains, peering down at her handiwork through prescription spectacles, 'improvised from recipes in women's magazines.'
These get baked in the oven in a Pyrex dish with a dusting of vegetable oil and, when they are about ready to serve, she tears open a packet of 2-minute noodles, their crinkled ribbons like brittle, blonde locks, and boils them briefly. Dessert is a few slices of mango, lush and glistening orange in a scalloped glass bowl.
The servings are small and austere, mostly because her stomach has given her trouble for years so she has to be careful about what she eats, and how much. The kitchen table where she sets down her place mat and knife, fork and spoon begs for the presence of her husband, who passed away in 2000, leaving a hole the size of the universe in her kitchen.
She tries not to rattle around in her house too much, now that her kids have left home and her Xhala has passed on. So Winnie keeps herself busy with her work in the church – encouraging vegetable gardens, talking to people about good nutrition in HIV management, that kind of thing, collaborating with the American church.
That is how the first draft of the unpublished recipe book came to be. These are just a few examples of the traditional diet, the manuscript says, before the advent of rice, refined corn, soup packets, chicken pieces, cold storage meat, tinned stuff, fizzy drinks and confectionery.
Recipes such as this one, on which the bulk of Black school children depend as a once-a-day meal (if they are lucky to afford any), should draw attention to the stark reality that much has still to be done to eliminate the glaring poverty among Black areas like the Eastern Cape. Only when the average school child takes a lunch box filled with universally accepted nutritious snacks that will enable him to perform at maximum degree according to God's endowments, shall freedom be meaningful!
By
Leonie Joubert