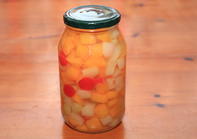 ©Glenneis Kriel
Fruit were originally preserved in airtight glass containers.
The French chef, confectioner and distiller, Nicolas-Francois Appert, is considered the father of canning thanks to his invention of airtight food preservation. Appert invented canning in response to a 12 000 francs award offered by Napoleon Bonaparte to anyone who could develop a practical means of preserving food for his army during long forays.
In the absence of supportive science on food preservation and bacteriology, it took Appert fourteen years to come up with a solution. Most of his trials were based on the sterilisation of food through boiling and storing this food in airtight containers.
Appert, who had no formal schooling, opened the world's first canning factory in Massy in 1804 and won Bonaparte's award in 1810, after publishing his finding in Le Livre de tous les Menages, ou l'Art de Conserver Pendant Plesieurs Annees Toutes les Substances Animales et Vegetables (The Art of Preserving All Kinds of Animal and Vegetable Substances for Several Years).
Back then it took about five hours to sterilise produce, which were placed in glass bottles, loosely stopped with corks, and immersed in hot water. The bottles were sealed tightly with corks and wax.
Appert never fully understood why the process helped to prevent decay. The reason only emerged half a century later, after Louis Pasteur discovered the relation between microbes and food spoilage.
Initially, only glass containers were used for storage, but the glass containers were quickly replaced with metal containers when the English merchant, Peter Durand, patented tin cans for this purpose in 1810. Today, canning is able to preserve food for more than three years, reducing wastage and allowing consumers to enjoy their favourite fruit any time of the year.
International Canning Market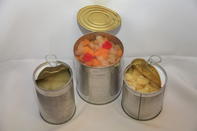 ©Glenneis Kriel
Tin cans were patented for food preservation in 1810.
Canned food consumption is expected to increase at a compound rate of 3.8% per year to reach a value of 118 billion USD by 2023, as claimed by the Global Canned Food Market – Growth, Trends and Forecast (2018 - 2023). The market is dominated by a few processors, who sell their produce across the world.
The latest trends in canned food are for companies to experiment with packaging and specifically to go BPA-free. BPA stands for Bisphenol A, a synthetic compound that has been linked to health problems as well as behavioural problems in children.
Besides this, processors are experimenting with new recipes to address concerns over the sugar content of canning fruit.