A modern society, living in a city, relies more and more on the convenience of processed food. Living far from farms and having to commute to work leaves little time to cook at home and even less time to grow our own food.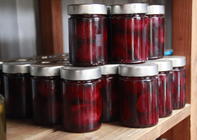 ©Marinda Louw
Pickled beetroot.
Processing food saves time, is a convenient way to add nutrients to a diet and helps farmers to not only to diversify their product offering but also to utilise excess produce and extend shelflife and availability far beyond the growing season.
The processing of raw ingredients such as fruit and vegetables includes drying, freezing, juicing, fermenting and further processing into preserves, pickles and value-added products.
Similarly, raw materials like meat, milk and grains are further processed and preserved. This range of articles, however, will explain basic processing techniques of fruit and vegetables.