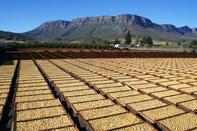 ©At Source
Apricots being sun dried in the Ceres Valley.
Plenty of South African fruit, such as grapes, apricots, peaches, apples, pears, mangoes and bananas are consumed as dried fruit. Drying removes the moisture, which encourages mould, yeast and bacterial growth, which in effect enhances the shelflife of fruit. It also reduces the weight and size of the fruit, making it cheaper and easier to transport.
Suitable Varieties
Technically, any fruit and vegetable can be dried, but some varieties are more suited for drying than others. As stated by Anton Erwee, the chief operating officer of At Source Handmade Foods, the wrong variety will result in a final product with little body or fleshiness.
Fruit and vegetables aimed at the drying market, like any other variety, are subjected to extensive evaluations before they are commercially released for production. The varieties should not only be suited for drying and maintain colour after drying, but produce sufficient yields at the right time of year with minimal labour and other inputs.
Soft or Hard Fruit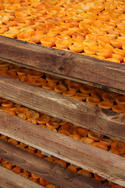 ©At Source
Apricots being sun dried on drying trays.
The fruit might be rehydrated after drying or sold without any additional treatments. Rehydrated fruit is softer and easier to eat than the non-treated fruit, but have a shorter shelflife.
Fruit such as berries might be treated with a sugar solution, such as grape juice, before being dried to prevent them from becoming too hard and ultimately, inedible.
Types of Drying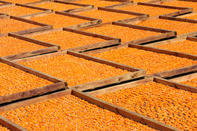 ©At Source
Apricots being sun dried in the Ceres Valley.
Most of South Africa's dried fruit is dried on drying trays in the sun straight after they have been picked, due to the ease of production and low associated costs. Since unfavourable climatic conditions may cause fungal growth and the discolouration of fruit, most of the fruit is dried in winter rainfall regions such as the Boland, Ceres Valley, and Klein Karoo in the Western Cape and along the Orange River Valley in the Northern Cape.
The biggest drawback with solar drying is that producers have little control over climatic conditions and, as such, the drying process. To produce better quality fruit, a small number of producers have reverted to drying tunnels to reduce climatic risks and ensure high quality dried fruit. As electricity is expensive, the farmers use natural resources, such as biomass or solar energy, to power the drying process.
Sulphur Dioxide
Anton notes that most dried fruit gets treated with sulphur dioxide before the drying phase. This treatment breaks down the cell membranes of the fruit and facilitates the drying process. Furthermore, Sulphur dioxide helps to prevent the non-enzymatic browning processes of the fruit, allowing the fruit to maintain its colour. It also acts as a microbiological preservative that helps to ensure the food is safe to eat, despite being left outside for a few days to dry.
Fruit that have a black pigment, such as figs, raisins, prunes and dates are often not treated with sulphur dioxide.
Sales
South African dried fruit is in high demand locally and internationally.
Usage
Dried fruit can be enjoyed as a snack, used for cooking or added to a dessert. Dried fruit is high in fibre, antioxidants and is extremely healthy. One piece of dried fruit is said to have the same nutritional value as that of fresh fruit. There are, however, exceptions - some nutrients, such as vitamin C might get lost during the drying process.