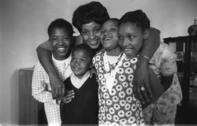 © Dr. Peter Magubane
Her isiXhosa Name is Nomzamo: It translates to "she who tries". Her full name was Nomzamo Winifred Zanyiwe Madikizela.
Winnie Madikizela-Mandela is most remembered for the struggles she encountered as the wife of Nelson Mandela during his incarceration.
Starting her career as a social worker, Winnie made many sacrifices and dedicated her life to fight the injustices she saw around her, becoming a famed freedom fighter in her own right.
South Africa Online ® explores her life and contribution to the integrated country we live in today, from her humble beginnings in the Transkei to being at the forefront of the liberation movement of South Africa.