Continuing in Campaigns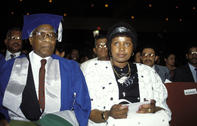 ©Eric Miller
After Apartheid was abolished and The Truth and Reconciliation Commission (TRC) commenced in 1996, Winnie Mandela was called up for being implicated in the assaults and murders performed by the Mandela United Football Club (MUFC), which was formed under her leadership.
After Archbishop Desmond Tutu implored her to do so, Winnie apologised to the families of Stompie Seipei and Abu Baker Asvat, both of whom were victims of the MUFC. After that she continued in her campaign for the issues she stood for.
She went to Zimbabwe in 2000 to support the Zimbabwean war veterans taking over the white farms. She also supported the appeal for free antiretrovirals (ARVs) for HIV sufferers. In 2007 she was elected to the ANC's National Executive Committee and in 2009 she was placed fifth on the list of ANC Members of Parliament (MPs) nominated for parliament.
Remembered for Her Contribution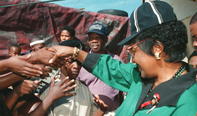 ©Eric Miller
Winnie Mandela sadly passed away on 2 April 2018 at 81 years old, after suffering from a long illness. She was surrounded by family and loved ones at her passing.
She is remembered for her momentous contribution to the liberation of South Africa from the oppressive regime that was apartheid. A strong woman and formidable force, Winnie Mandela is among those women celebrated in South African history.
Winnie is Honoured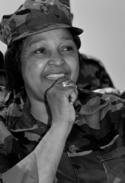 ©Eric Miller
Winnie Mandela is greatly recognised for her contribution to the liberation of South Africa from racial segregation. For many people she is one of the faces of the liberation movement which has resulted in many namesakes of the woman and numerous gala dinners and events held in her honour.
Among the more formal accolades awarded to her are the following: Freedom of the City of Aberdeen (1984) United Nations Prize in the Field of Human Rights (1988) The Order of Luthuli in Silver (2016) After her death in 2018, Winnie Mandela also received a State funeral at the Orlando Stadium in Johannesburg. The service was attended by thousands of people, high profile political dignitaries among them, and her eulogy was delivered by President Cyril Ramaphosa.