The Story of Stompie Seipei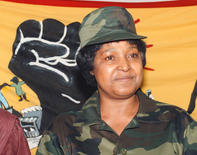 ©Eric Miller
After Winnie Mandela was released from her exile in Brandfort she was allowed to go back home in 1986. When she returned she found that her neighbourhood had become more dangerous with the youth running riots and the government imposing a state of emergency. In an effort to help those caught up in the chaos, Winnie established the Mandela United Football Club (MUFC) for the disenfranchised youth.
Sadly, this group is most remembered for their vigilante activities. The club clashed with some pupils from Daliwonga High School, the result of which saw Winnie and Nelson Mandela's Orlando West home burnt to the ground. Stories circled of the MUFC being responsible for assaults, kidnappings and torture.
The most well known of these was the story of Stompie Seipei. In 1988 Stompie was a 14 year old activist who was in the company of the MUFC when he disappeared one day. His body was later found on the outskirts of Soweto. He had been badly beaten and eventually killed with gardening shears.
A friend of Winnie, Dr Abu Baker Asvat had seen him for his injuries before he died. Asvat reported that Stompie had sustained permanent brain damage, was vomiting and could not eat. A few days after he reported this, Dr Asvat was murdered by two men posing as patients.
Linked to Necklacing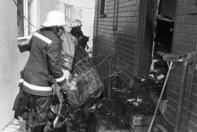 ©Eric Miller
1988 Fireman at the scene of the fire at Winnie Mandela's house
Winnie was surrounded with controversy due to her links with the Mandela United Football Club (MUFC) and their activities. It seems as though years of harassment, emotional trauma and the experiences of prison and banishment had hardened Winnie and she came to be seen as a kind of soldier on the ground.
It was rumored that her approach was becoming more violent and military driven. In one of her famous speeches, Winnie declared, "together, hand in hand, with our boxes of matches and our necklaces we shall liberate this country.
" This has been said to be in reference to the practice of 'necklacing', a torture and execution method of forcing a tyre over someone's chest and setting it alight. It is said that Winnie endorsed the practice in her speech and was linked to many necklacing incidents.
Controversy Takes its Toll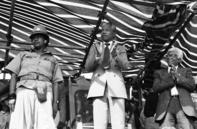 ©Eric Miller
In 1990 the ban on the ANC was officially lifted. Nelson Mandela along with other political prisoners were released from prison and Winnie was reunited with her husband after 27 years. After that, with liberation drawing nearer, Nelson and Winnie were caught up in meetings and speeches, travelling and media liaisons.
Winnie Mandela was appointed the ANC head of Social Welfare in September of that year. In 1991, Winnie and her associates in the Mandela United Football Club (MUFC) stood trial for the kidnapping and murder of Stompie Seipei.
Winnie was cleared of the murder, however she received a five year prison sentence for four counts of kidnapping and one year for being an accessory to assault. This was eventually reduced to a two year suspended sentence and a R15 000 fine. The trial and controversy surrounding Winnie Mandela took its toll on her marriage.
The image of Nelson and Winnie as a happy couple began to fade as rumours of an affair began to circulate. In 1992 the two announced their separation, followed by Winnie's resignation from all her ANC positions. Winnie and Nelson Mandela's divorce was finalised in 1996.