Born in the Transkei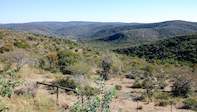 ©Eric Miller
Winnie Mandela was born in the Transkei.
On 26 September 1936, Nomzamo Winifred Zanyiwe Madikizela was born in Bizana Village in what was then called the Transkei (Eastern Cape).
Her mother, Nomathamsanqa Mzaidume (Gertrude), taught domestic science and her father, Columbus Kokani, was a minister of the Forestry and Agriculture Department of the Transkei. Winnie was the fourth of eight children. Winnie's mother passed away in 1944, when Winnie was only eight years old.
However, Winnie was still able to attend primary school in Bizana and go on to complete her high school education. Unlike many other black children in South Africa at that time, Winnie was afforded a decent education.
The widely protested Bantu Education Act was only implemented in 1953 when she was older. She matriculated from Shawsbury in Qunu where she learnt leadership skills. She returned home to find her father remarried to Hilda Nophikela who welcomed her and her siblings warmly.
Winnie's Social Work Career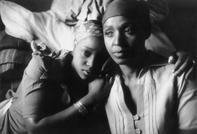 ©Peter Magubane
Under the advisement of her father, Winnie left the Transkei for Johannesburg in 1953 to pursue a career in social work. Here she attended the Jan Hofmeyr School of Social Work.
In 1955 she graduated at the top of her class and was offered a scholarship to study further in the USA. She declined, choosing instead to do social work in her home country.
Winnie took up a medical social work post in Johannesburg's Baragwanath Hospital, becoming the first qualified black person to fill the post. She went on to make a name for herself at the hospital, appearing in newspapers that told the story of her humble beginnings and her successful career.
Meeting Nelson Mandela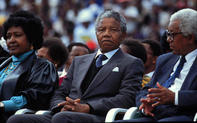 ©Eric Miller
Winnie became interested in national politics and activism while she worked at Baragwanath Hospital, as she saw first hand the abject poverty the people in the townships were living in. Her research on infant mortality in Alexandra Township, where 10 deaths in every 1000 births occurred, made Winnie more acutely aware of the injustices in South Africa.
Winnie sought ways to change these injustices and was politically active even before meeting her future husband and famed political activist, Nelson Mandela. Whilst at Baragwanath Hospital, Winnie shared a dormitory with Adelaide Tshukudu at one of the hospital staff hostels.
The two became firm friends. As friends do, they often talked into the night, and Adelaide told Winnie all about a lawyer (former ANC president Oliver Tambo) whom Adelaide was engaged to, and his legal partner, Nelson Mandela.
Winnie and Nelson went on their first date, to an Indian restaurant near his law offices. He was 16 years older than her and already a prominent figure in national politics as well as anti-apartheid activism. Winnie was not intimidated or deterred by this and in 1957, when he asked her to marry him, she readily said, yes. They were married in June in 1958.