A Force to be Reckoned With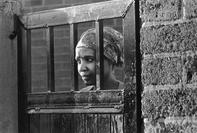 ©Dr Peter Magubane
Being married to one of Apartheid's most famed opponents was not easy. Winnie Mandela's husband, Nelson, was constantly caught up in ANC business, legal battles and their home was often raided by police. Winnie was involved in activism of her own too, even while she was pregnant.
In 1958 she was involved in anti-pass movements following the well-known August 1956 Women's March protesting those same laws. She was one of the 1 000 women arrested. She and the others decided to stay in detention for two weeks instead of applying for immediate bail. It was here that she was exposed to the horrific conditions of South African prisons.
After she was released the public and police came to know of her as a force to be reckoned with independent of her famous husband. Not long after she lost her job at Baragwanath Hospital. Her and Nelson's daughter, Zenani, was born in 1959 following this event.
Winnie's Confidants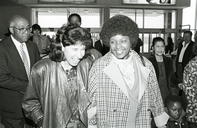 ©Eric Miller
Winnie Mandela drew inspiration and support from other phenomenal women instrumental in the struggle against the apartheid governance. Some of these women were people like Lillian Ngoyi, Helen Joseph, Albertina Sisulu, Florence Matomela, Frances Baard, Kate Molale, Ruth Mompati, Hilda Bernstein and Ruth First. These women became Winnie's trusted confidants, something that was rare at the time.
All too often those who befriended political activists like Winnie were later revealed to be government informants. It was difficult for her to trust people. Trouble arose between Winnie and her family back home in the Transkei after the Bantu Authorities Act was introduced in 1951.
Chief Kaizer Matanzima, one of Winnie's former suitors and her father's employer, sided with the government in supporting the act. The decision was opposed by a Pondo resistance group called Intaba, who raided Winnie's family home one night, severely assaulting her step-mother and burning the hut to the ground.
The attack resulted in waist down paralysis of the woman who had taken in the motherless Winnie as her own years before. She died soon after. Still, Winnie's father continued to support Matanzima, even holding a cabinet position in the Transkei homeland. Winnie saw this as a horrible betrayal on her father's part as she saw him as siding with the oppressors. The conflict tore the family apart.