Global Raisin Production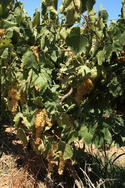 ©Glenneis Kriel
Sultana grapes on the vine.
Turkey is the oldest producer of raisins and is still the world's biggest raisin producing country. This is followed by the USA. Other raisin producing countries are South Africa, Australia, Chile, Greece, Iran, Uzbekistan and Afghanistan.
South African Raisin Production
The industry originated along the Orange River in the Northern Cape and has developed from the early 20th century. The hot, dry climate of the area is ideal for grape production and the raisin industry exists alongside and complements the fresh table grape industry in the region. Grapes are harvested in early to mid-summer and dried and processed in the region. Good returns for raisins on both the domestic and international markets are providing the incentive for the industry's continued expansion. South Africa's biggest export market for raisins is to Europe where they are sold in Germany, the Netherlands, the United Kingdom and France. South Africa also exports raisins to the USA and Canada.
Raisin Production Area
The biggest raisin production region in South Africa is along the Orange River in the Northern Cape and this region produces around 90% of the South Africa's domestic raisin production. More recently raisin production is also growing in the Namaqualand region.
Preparation of Raisins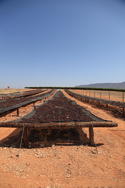 ©Glenneis Kriel
Grapes being dried to produce raisins.
Raisins are traditionally sun-dried and while sun drying is an inexpensive method, the product is exposed to the elements and to possible environmental, microbial and insect contamination.
Producers also dry the grapes using shade drying conditions or dehydrate the grapes mechanically in drying chambers under controlled humidity and temperature conditions.
Following the drying process, raisins are graded and foreign objects are removed. Raisins are often treated with sulphur dioxide as a preservative after the drying process has been completed.
Uses of Raisins
©Louise Brodie
Raisins are eaten as a snack or in salads and are widely used in cooking and baking. Raisins are rich in fibre, carbohydrates and minerals such as iron and copper. Raisins are usually sweet and as raisins have a low glycemic index, they are often recommended as a snack for weight control.
For bulk or Raisins export enquiries please use the enquiry link below.