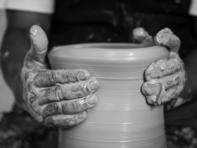 The beauty of Handcrafted South African ceramics is in the balance of form and function. Domestic and decorative, South African ceramic art is moulded by the artist's concept and fired by the buyers' need for utilitarian artwork.

Serious art lovers will be delighted to know that there are plenty local South African ceramic artists whose artwork has recieved international acclaim - imagine adding such an exquiste piece of art to your collection.
Inspired by the beauty and uniqueness of South Africa, artists can find your desired design within the clay, which is the mark of true creativity. Transform your home into a live-in gallery with ceramic pieces including South African ceramic animals, vases, sculptures, bowls, and ornaments from SouthAfrica.co.za.