Soaring Forms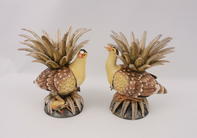 Made by some of the finest African originators, these incredible sandgrouse vases are the exacting collector's dream.
Weighing 4.7 kilograms, they are moulded around the glorious form of the sandgrouse and are depictions from a master craftswoman who specialises in exquisite bird sculptures. On these outstanding vessels, a renowned Zulu artist known for intricate illustrations has painted in brilliant strokes, using a limited palette of earthy colours.
Invest in this remarkable twosome by enquiring at SouthAfrica.co.za.
Priced From: US$7370