In 1985, Fée Halsted collaborated with her apprentice, Bonnie Ntshalintshali, to found Ardmore Ceramics. The pair's exuberant synergy was the reason for their success, being jointly awarded the prestigious Standard Bank Young Artist Award in 1990.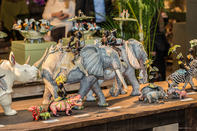 ©Ardmore Ceramics
Originally on Halsted's family farm beneath the majestic Drakensberg mountain range, Ardmore Ceramics is now situated in Caversham Valley in the Natal Midlands and has grown to be the largest ceramic art studio in South Africa. Acknowledged by Christie's as "modern day collectables", the pieces from Ardmore Ceramics have become valuable investments and invaluable African pieces of functional art.
The artists of Ardmore Ceramics are a diverse group from various backgrounds ranging from builders, domestic workers, and freedom fighters, but they all have one thing in common, a passion for their art. Be they painters or sculptors, their work is meticulous and beautiful.