In 1985 the Ardmore studio was founded, by Zimbabwean-born ceramic artist, Fée Halsted, on the Ardmore farm which sat along the foothills of the Drakensberg mountains.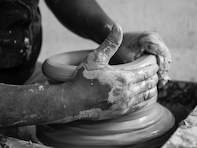 ©Ardmore Ceramics
Later that year, Fée Halsted grew the Ardmore studio team and welcomed Bonakele (Bonnie) Ntshalintshali, who began her ceramics apprenticeship under Fée. In 1989, the Ardmore studio team grew again with the addition of two sisters, Punch and Mavis Shabalala, who each developed their unique painterly style.
By 1991, Ardmore had begun displaying ceramics in the prestigious jewellery market and also garnered support and recognition from various established enterprises. By the year 1996, Ardmore had grown to open a second studio in Springvale.
In the following years, Bonnie Nsthalinsthali, Agness Ndlovu, Phineas Mweli and several other artists of the Ardmore studio, unfortunately died of AIDS-related illnesses that had swept through South Africa and would claim the lives of many other artists over the next two decades.
Ardmore then established the Ardmore Excellence Fund which serves to provide ARV medication to people with HIV and AIDS and assist in medical expenses, education, funeral costs, basic nutrition and provide care to orphans who are affected by HIV and AIDS.
Throughout the years that followed the establishment of the Ardmore Excellence Fund, the Ardmore studio grew and launched its sister company, 'Ardmore Design' which specialized in the creation of fabrics, furnishings and design objects in addition to the ceramic pieces for which Ardmore Ceramic Art had become famous.
Since its establishment, Ardmore Ceramics and its numerous artists, have received multiple awards in recognition for the quality, craftsmanship and meticulous attention to detail that Ardmore Ceramics products embody.
The company was able to venture into a separate business from Ardmore Ceramic Art after receiving a generous grant from the Business Trust's Shared Growth Challenge Fund. Ardmore Ceramics is now equally celebrated and respected worldwide.