A Feat of Form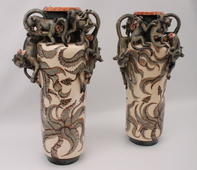 From one of Africa's foremost art studios comes this glorious vase, a collaborative effort by an accomplished Sotho sculptor and Zimbabwean master thrower. A troop of busy baboons is depicted on this majestic vase, complemented by an intricate pattern of painted aloes.
The painter's use of gentle greys, pinks, brown and blue with burnt orange accents elevates this piece. All artists combined have infused expert skill and artistry into this highly collectable masterpiece.
Enquire about making an investment in African artistry at SouthAfrica.co.za.
Priced From: US$8140