A Tale of Three Countries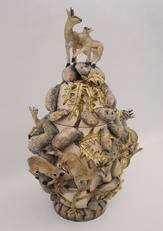 This exquisite klipspringer urn is a unique piece of African collaboration, a joining of multiple crafts spanning three southern African countries and perspectives.
The form is the work of a master thrower from Zimbabwe, an artist known for highly collectable functional pieces. The sculptor behind the piece is from Lesotho and is renowned for his inventive animal forms and realistic renderings.

Lending his refined aesthetic is a leading Zulu painter whose meticulous eye for detail results in outstanding one-of-a-kind pieces.
Add this ceramic to your collection today. Enquire with SouthAfrica.co.za.
Priced From: US$6910