Towers of Taste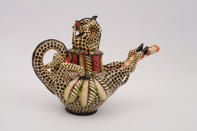 This incredible giraffe teapot is a tribute to nature's exquisite palette and the iconic pattern of the Zulu culture. Here, giraffe patterns, coral tree floral designs and traditional patterning are contrasted to create an imaginative one-of-a-kind piece.
This teapot is a collaboration between a master Zimbabwean thrower known for striking functional pieces, a Zulu sculptor with a passion for anti-poaching pieces and a painter with a style that blends flowers, insects, birds and animals into a signature motif influenced by Zulu beadwork.
Enquire with SouthAfrica.co.za about this highly collectable ceramic.
Priced From: US$1180