Perfect Illusions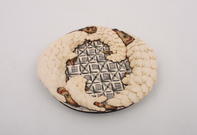 This exquisite pangolin dish is a work of functional art that dabbles in the mystical and peculiar. Harnessing the essence of this nocturnal creature, whose movements and behaviour are shrouded in mystery, the sculptor has conjured an infinite shape, whose true nature shifts with each angle.
The painter's meticulous strokes and muted palette add to the elusive elegance of this collector's find. From one of Africa's foremost ceramics studios comes this incredible piece of indigenous art.
Secure yours today at SouthAfrica.co.za.
Priced From: US$760