Complex Beauty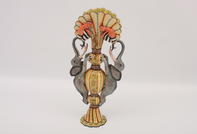 With its characteristic sandy hue contrasting against a striking tapestry of black stripes, the hoopoe is the inspiration behind this breathtaking vessel.
Moulded by hand into a formidable shape that mimics the hoopoe's crown of feathers, this vase is the collaborative work of some of Africa's most outstanding artistic talents.
Already exquisite in shape, the vase's form is highlighted on its flank by two elephants to make a product of exceeding complexity and value.
Invest in it today by enquiring at SouthAfrica.co.za.
Priced From: US$1690