Folk Art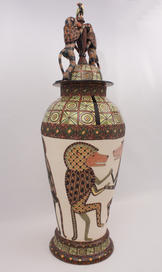 Invest in this one-of-a-kind collaborative work by some of the finest African artists. This ceramic urn is a fantastical celebration of the baboon's form, invoking images of African folktales and indigenous superstition.
Shaped by a legendary Zimbabwean thrower known for spectacular vessels, it's been ornamented by an outstanding painter renowned for geometric designs, zigzags, chevrons and squares in earthy tones. The soft pinks and browns seen in this piece and the sgraffito effect, created by scratching into the paint with a piece of wire, are typical of her technique.
Enquire with SouthAfrica.co.za.
Priced From: US$21040