Exquisite Rarity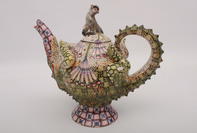 Add to the prestige of your ceramics collection with this intricate crocodile and monkey teapot, a proudly South African product by two leading local artists.
Made by a sculptor renowned for exquisite reptilian and aquatic sculptures and innovative teapots that are highly sought-after by collectors, this item is one in a long list of outstanding one-of-kinds.
Adding her signature green and black palette is a bestselling Zulu painter. Known for crocodile and zebra themed works, achieved through a meticulous stippling, sponging and scaling technique, her unmistakable motif is immortalised on this imaginative ceramic.
Make an enquiry with SouthAfrica.co.za today!
Priced From: US$1270