Tribal Mastery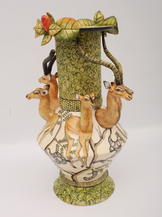 This impala vase is the product of African ingenuity and the result of collaborative work from a ceramic studio on the forefront of indigenous art.
Exceptionally intricate, this piece merges tribal tradition and folklore, both heavily influenced by the horns of the antelope. Upon this vessel, an exquisite palette of greens and golds, and the distinct motif of Acacia seed pods and thorns have been meticulously painted.
A true one-of-a-kind piece, this is a must-have collectable for the discerning ceramics connoisseur. Enquire at SouthAfrica.co.za.
Priced From: US$2530