Fanciful Function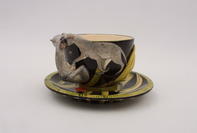 This monkey teacup and saucer set transcends functionality to become art due to its peculiar yet elegant form. It is the work of a leading Basotho sculptor renowned for innovating new forms and realistic renderings of animals. His highly collectable pieces are housed in private collections all over the world, and it's easy to see why.
Credit also belongs to the painter, who achieves natural realism with profound attention to detail. As per his signature technique, he uses a light hand to bring the animal form to life against an elegant, nature-inspired backdrop.
Enquire about this ceramic set today at SouthAfrica.co.za.
Priced From: US$590