Functional Craft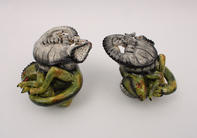 This salt and pepper ceramic won't fail to elicit conversation. After all, how many people boast exclusive tableware made by some of Africa's most lauded indigenous artists?
Vivid, eye-catching and somewhat peculiar, this set was made with the exacting standards of a leading South African brand that produces rare and highly collectable treasures. By recruiting homegrown talent, they've ensured a consistency of innovation that is rooted in traditional heritage.
Enquire about this set on SouthAfrica.co.za.
Priced From: US$640