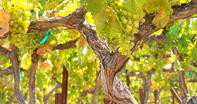 Description
Viognier is a white wine variety, genetically related to the Piedmontese grape, Freisa. The name is derived from the Celtic word vidu, which means wood.
Origins
The variety originated in Dalmatia – known as Croatia today – from where the Roman Emperor Marcus Aurelius Equitius Probus, allegedly, took it to France around 280 AD. The variety was hard hit by the phylloxera epidemic, which decimated European vineyards in the late 19th Century and nearly went extinct.
Around the 1980s, plantings in the Rhone Valley, which at the time accounted for almost all the official Viognier plantings in the world, declined to a mere 20 ha. The popularity of the wine has grown since then and today, Viognier is planted in most of the wine producing regions of the world.
Other Names
The variety's original name was Vugava Bijela and it is also known as Petit Vionnier and Vionnier.
Production in South Africa
Charles Back of Fairview in Paarl was a driving force in the introduction of Viognier to South Africa. The first plant material was imported into South Africa in 1989 and Back became the first producer to plant and release a Viognier labelled wine in the 1990s.
Production Regions
Viognier still represents a relatively small portion of the total area under wine grape production in South Africa. The variety has nevertheless been planted in all the wine producing regions of the country, with Paarl accounting for the biggest area under production, followed by the Swartland and Stellenbosch.
While the variety thrives under warm climatic conditions, more characteristic wine flavours are achieved when it is produced under cooler conditions, for example on relatively high southern slopes or when planted in areas that are exposed to cool summer breezes.
Growth
The variety is a moderate grower, with an average yield potential of about 6 t/ha to 8 t/ha.
Ripening
It ripens early, from the end of January to the second half of February.
Berries
The white green berries get a yellowish brown tint when fully ripe. The berries are small, oval shaped with thin skins. The flesh has an extremely fruity taste.
Leaves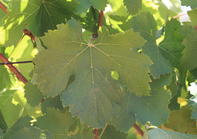 The leaves are medium sized, round and have three to five lobes.
Pests and Diseases
The vines should be trellised to avoid sun damage and ensure good light penetration. The variety is sensitive to downy mildew and might develop botrytis when planted on very fertile soils.
Use
It is sold as a single varietal wine or blended with other red or white varieties, such as Chardonnay or Shiraz.
Taste
South African clones are associated with orange blossoms, peaches, tropical fruit, honey and exotic spices.By
Glenneis Kriel