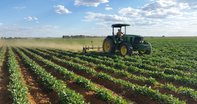 © Michris Janse Van Rensburg
South Africa continues to be in the forefront of innovation and invention. Our ability to make new designs allows our industry and South African products to thrive and make the country one of the major economic players within Africa and the world.
Sectors that include agriculture, health, mining, tourism and manufacturing, for which South Africa is renowned contribute to its economic growth. SouthAfrica.co.za provides an extensive variety of industry product-related information that highlights South Africa's most bountiful industries and encapsulates the country's successes in a range of fields.
If you're ever unfortunate enough to need a CAT scan, take pride in the fact that a South African-born scientist, Allan Cormack, was awarded the Nobel Prize in Medicine in 1979 for his work on this.
South Africa's agricultural sector is one of the world's most diverse, consisting of corporate and private intensive and extensive livestock farming systems as well as vegetable, fruit, grapes...
more
South Africa has a market-oriented agricultural economy that includes livestock production of cattle, dairy, pigs, sheep, goats, rabbits, ostrich and a well-developed poultry...
more