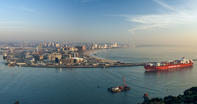 © Roger de la Harpe
Many products made in South Africa are exported worldwide.
South Africa is a land of diversity, not only in its people and nature, but also its industries and products of origin. South Africa is synonymous for its mineral riches such gold, diamond, platinum, manganese-ore and coal, while the fruits of its farming industry are savoured over the world. This includes wine, fruit, medicinal plants, wool, livestock, game and cut flowers. In addition, South African technological advances, designs and innovation can be seen in the areas of manufacture, technology, tourism and health.
SouthAfrica.co.za provides an extensive variety of industry product-related information that highlights South Africa's most bountiful industries and encapsulates the country's successes in a range of fields.
South Africa has a diverse climate, ranging from Mediterranean in the south western corner of the country to subtropical in the northeast, temperate in the interior and patches of desert in the northwest....
more