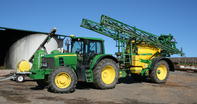 © Louise Brodie
A tractor with spra tank and folding spraying arms.
Diseases and pests should be prevented or controlled in a responsible manner and should not harm the environment or people. During the management of diseases and pests it should always be remembered that safe and quality food products must be provided. Therefore the focus should be on environmentally and socially acceptable farming methods. In order to achieve this, the following measures should be taken regarding disease and pest control sprays:
Workers involved in pest control should undergo training so when dealing with chemicals, workers should always be careful. They should read the label carefully and should maintain the equipment. They always wear the proper protective clothing and equipment. Do not eat or drink or smoke while mixing or applying chemicals. Do not touch the face or skin with infected hands and wash hands before eating. Wash overalls separate from normal clothes and do not go home with contaminated overalls.
Prevent water sources from being contaminated, do not spill the chemicals into dams or streams. Disease and pest control sprays should always be stored according to the instructions and access to the chemical storage should be restricted. Ensure that safety notices are available in the appropriate languages. Emergency equipment and fire fighting equipment should be available for use if contamination occurs. Prevent the reuse of empty chemical containers by cutting holes into the containers after use.
Ensure that families who live in the vicinity are notified in advance of the spraying date. Close doors and windows and remove laundry from the clothes line. Workers should not park at their houses with a tractor and spray pump and children should not be allowed to play on the spray pump. A worker should not play with or carry a child while wearing possible contaminated clothing when going home for lunch as chemicals can penetrate the child's skin. Spray operators have to undergo a medical examination annually.By
Vinpro