A Coat of Arms is defined, in the Heraldry Act No. 18 of 1962 of South Africa, as any object or figure being a symbolic representation displayed in colours on a shield in conformity with the principles and rules of Heraldry, with or without a crown, helmet, crest, mantling, supporters, motto or other accessories.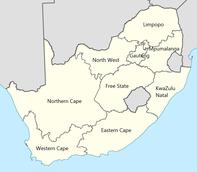 Role of the Coat of Arms
Each of the nine provinces of South Africa has its own Coat of Arms that represents that specific region and is the official seal of that province. A Provincial Coat of Arms is the highest visual symbol of a Province. Absolute authority is given to every document with an impression of the Great seal on it.
SouthAfrica.co.za offers a description of each of the provinces Coat of Arms and an explanation of what the symbols represent, in all eleven official languages of South Africa.
Coat of Arms Rules for Use
No borders can be drawn around the Coat of Arms, or changes to the thickness of lines.
The Coat of Arms may not be rotated, skewed or distorted.
The Coat of Arms may not overlap or be blended with other objects.
A higher ranking Coat of Arms should always be displayed as more dominant.