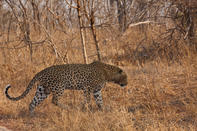 © Roger de la Harpe
Leopard (Panthera pardus)
Livestock farmers suffer losses in the region of R2 billion each year due to predators, such as black-backed jackal, caracal, leopard, cheetah, brown hyena and even crows and stray dogs.
Where all predatory animals were classified as 'problems' in the past, new ways of thinking have led to the realisation that it is not the animal but predation that should be managed to reduce losses. As such, there has been a shift from non-selective killing to an integrated management approach where a combination of interventions are used interchangeably to prevent and decrease losses.
The shift is supported by scientific research that has found that indiscriminate killing of jackal and caracal to rarely address predation and in some instances even exacerbate the problem by changing the hierarchy in a pack of predatory animals. Traps and poison may also harm animals that are not responsible for damages and have a negative impact on the environment.