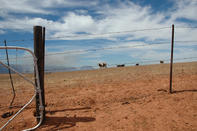 ©Eric Miller
Barbed fences help to keep out some predators.
Livestock producers take sustainable predation management so serious that the National Wool Growers' Association, the Red Meat Producers' Organisation, the Mohair Growers' Association and Wildlife Ranching South Africa established the Predation Management Forum in June 2009.
There are various reasons why the forum was created, amongst others, the realisation that predation does not exist in a vacuum and that strategies and actions addressed at the problem require testing against the rule of law in South Africa, while recognising the right of individuals to protect livelihoods and assets, such as livestock and game. There is also a growing need to ensure that strategies to address and manage the problem are based on sound scientific principles.
The goal of the forum, is to provide a platform for liaison and coordination of activities of commodity organisations in the livestock and game ranching sectors to reduce predation losses by means of "ecologically and ethically accepted methods, which protect the biodiversity of South Africa".
United Approach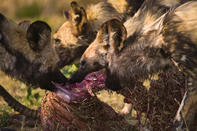 ©Roger de la Harpe
Wild dog (Lycaon pictus) feeding on an impala.
For successful predation management, all farmers and landowners need to work together, since problems on one farm will inevitably spiral out and affect other farms. Having a farm next to a conservation area or a weekend farmer, who is not too concerned about these animals, is, therefore, a real concern.
The cost of sustainable management is a great challenge, especially for small-scale and emerging farmers, since fencing is highly expensive and many farmers do not have vehicles or tools to manage these animals successfully. In some provinces, for example, a permit might be required to shoot or catch certain damage causing animals and if certain species are shot, the farmers need to pay a fee.
The same situation applies to communal farmers, where the question is usually raised as to who should pick up the "tab" for these interventions.By
Glenneis Kriel