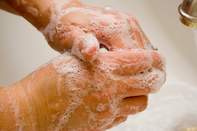 The following simple precautions to should be taken to avoid being infected with coronavirus (COVID-19)
Wash Your Hands
Wash your hands with soap thoroughly.
Wash the back of your hands, between the fingers and under the nails.
Always wash your hands with soap before you eat and after being out in public.
Good Personal Hygiene
Cover your mouth with a tissue paper when coughing or sneezing.
Avoid touching your face with dirty hands at all times.
If you have to, be sure to wash your hands with soap thoroughly first.
Do Not Share Food and Utensils
Bacteria can be transmitted onto knives, forks, spoons and straws.
Only use clean utensils and do not share drinks.
Always clean your hands before eating.
See a Doctor If You Are Unwell
Typical coronavirus (COVID-19) symptoms include couch, runny nose, fever and shortness of breath.
If you are experiencing any of these symptoms, seek medical attention promptly.
Call the clinic or doctor ahead of your visit and inform them of your symptoms and travel history.
24HR NICD HOTLINE: 0800 029 999
Supplied by the Department of Health
Credit Source: https://sacoronavirus.co.za/category/tool-kits/