The Now-Famous Golden Rhino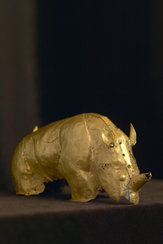 ©Roger de la Harpe
Mapungubwe is an awesome place, with large flat-topped hills and baobab-studded valleys falling away to the Limpopo River - just the kind of place you'd choose if you wanted to start a dynasty.
A pre-Shona kingdom was indeed based here from around 1220 - part of a much larger culture that built stone settlements all over central Southern Africa before the arrival of white colonists.
Gold smelting was done at most of the settlements, and when Mapungubwe was 'discovered' by white hunters in 1932, countless golden artefacts, among them the now-famous golden rhino, were found. The Order of Mapungubwe, depicted by the golden rhino, is South Africa's highest leadership award.
By
David Bristow