'When you strike a woman, you strike a rock' / 'Wathint'abafazi, wathint'imbokodo!'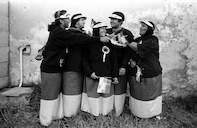 ©Tracey Derrick
Why We Celebrate Women's Day
This phrase has come to represent women's courage and strength. Women's Day is commemorated in South Africa on August 9 in memory of the women who marched in 1956 to protest against apartheid and has become a symbol of women's resistance to the evils of society.
While involved in my project, Side by Side, where I interviewed women who I believed were paramount to our 1994 elections, I was struck by the bravery of these women who risked official reprisals including arrest, detention, bannings, exile and beatings.
So too are their organizational skills and their community-consciousness – they were tired of staying at home, powerless to make significant changes to a way of life that discriminated against them primarily because of their race, but also because of their class and their gender.
Women, half of our population after all, have been silent for too long in our history books, and although this need is now to an extent being addressed, there is still a huge gap in our knowledge on the role of South African women. They need to be applauded.