Elizabeth "Nana" Abrahams a champion of the working class, and a labour activist who campaigned for equal rights.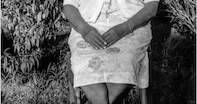 ©Tracey Derrick
Labour Politics
Elizabeth Abrahams, born in the Western Cape in 1925, into a working-class family of eight. At the age of 16, she began work in the canning factories of Paarl. Seeing first hand the poor conditions, which the workers were expected to toil under, she joined the then Food and Canning Workers Union (FAWU today).
From then on she spent her life dedicated to alleviating injustice and exploitation. In 1955, Abrahams became the General Secretary of FAWU, taking over the responsibilities and duties from her friend and colleague, Ray Alexander. During this time, Elizabeth Abrahams often had to visit workers on farms, in factories and in communities, which often entailed travel that was often fraught with danger.
Her dedication for workers also extended to the community and schools and all of society including women's rights. This led to a five-year ban by the apartheid government. Despite her banning, Abrahams continued to support her fellow comrades Elizabeth Mafekeng and Archie Sibeko, both of whom faced exile.
While working for the Union, Abrahams was also the Western Cape secretary of the South African Congress of Trade Unions (SACTU), and belonged to the Coloured People's Congress (CPC) and the Federation of South African Women (FEDSAW). When the United Democratic Front (UDF) was formed in 1983, Abrahams became actively involved with this organisation.
Nana Abrahams was honoured for her dedication and contribution towards change in South Africa with the following awards:
The Order of the Baobab (2002)
ANC Western Recognition Award (2002)
FAWU Ray Alexander Award (2002)
COSATU Elijah Barayi Award (2005)
Western Cape Provincial Parliament award for Women in the Struggle (2006)
Western Cape Provincial Parliament Award for Contribution to Liberation of SA (2007)
Honorary Doctorate in Commerce from UWC (2007) Sadly, she passed away in 2008 at the age of 83. She will be remembered for her unwavering support for the anti-apartheid movement.