Dot Cleminshaw was a Civil rights and Black Sash activist, and an advocate of human rights during the apartheid years in South Africa. She played a pivotal role in getting the National Party (NP) government to change the law regarding abortion.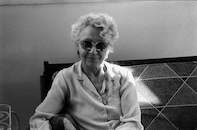 ©Tracey Derricks
Women's Rights Advocate
Dot Cleminshaw was born in Cape Town 15th September, 1922. After she matriculated, with a full distinction, she obtained a bachelor of Arts at the University of South Africa and worked as a secretary for the Department of Defence in Pretoria during the World War II. Cleminshaw became politically active and campaigned vigorously against the removal of coloured people from the voters roll.
She later became a member of the Liberal Party of South Africa (LPSA). Cleminshaw joined the Civil Rights League, and used it as a medium through which to challenge human rights abuses. She contributed to the advancement of civil rights through public discussions and publications.
As a representative of the LPSA, she joined the Defence and Aid Fund - a fund which helped the families of political prisoners (until it was banned.) Later, she started working for the South African Council of Higher Education (SACHED). The council was invested into looking for ways to find opportunities for those who could only afford government education. She also worked for the Institute of Race Relations. She remained active in protests and got arrested a few times during these demonstrations.
In 1963, she joined the women's movement, the Black Sash, and was actively part of human rights campaigning. Dot Cleminshaw also devoted her time and energy to campaign for changes in South Africa's abortion legislation, advocating pro choice for women. With a band of other activists she managed to sway public opinion and awareness which helped towards improvements in the law. In 2010, Cleminshaw was conferred a state honour, the Order of Luthuli, by President Jacob Zuma.
Bishop David Russell, who worked closely with Cleminshaw in the Christian Institute, said: "She never gave up, she was indefatigable. The people who knew her were tremendously impressed by her courage."In 2004, she died at the age of 89. Cleminshaw will always be remembered for her activism and contribution to South African society.