Amy Thornton was a prominent activist in the late 1940's, devoting her life to fighting the injustices of apartheid South Africa.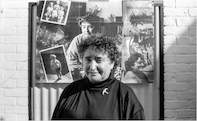 ©Tracey Derrick
Activism
Amy Thornton was born in 1932, and at the tender age of 16 she began her career in activism. In 1948, she started working with the then Communist Party of South Africa (now called South African Communist Party).
She was an active campaigner against the National Party in the 1948 elections, a then became involved in the Congress Movement in the 1950's, joining the progressive youth movement, the Modern Youth Society (MYS). In 1952, when the Congress of Democrats (COD) was formed, Thornton was appointed secretary of the Joint Congress Committee (involving the COD, the African National Congress (ANC), the South African Indian Congress and the Coloured People's Congress).
She was then recruited to join the SACP, who had since gone underground. She continued to campaign against Group Areas Act and the Bantu Education Act. At the start of the Treason Trial in 1956 Thornton served on the Treason Trial Support Committee. Amy Thornton, was one of the organisers of the mass Women's March of August 9th, 1956.
She also did voluntary work for the Guardian newspaper (and its successors, as each successive title was banned in turn). In 1959, Thornton was banned for the first time. Initially, it was only for two years, but this was extended several times. Eventually, she served 14 years under banning orders. In 1981, she was a founding member and deputy chairperson of the United Women's Organisation, which would later become a key organisation in the formation of the United Democratic Front (UDF).
The UDF played a pivotal role in organising consumer boycotts and stayaways and aided bringing about fundamental change in South Africa's political landscape. In 1983 she was appointed as a patron of the UDF and she was detained during the two states of emergency. Thornton was a member of the Cape Town ANC regional leadership.
Between 1990 and 1993, she served on the National Coordinating Committee for the Return of Exiles. Thornton's commitment to the struggle for liberation and equality for all South Africans is commendable. Her contribution to various organisations played a vital role in the liberation movement. Her bravery in the face of the oppressive apartheid regime is an inspiration to all South Africans.