Elizabeth Mafikeng, also known as comrade Rocky, was an esteemed activist during the apartheid years in South Africa. She was a trade unionist and National Vice-President of the African National Congress Women's League (ANCWL). She was known for her active participation in the liberation struggle and her advocacy for women.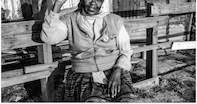 ©Tracey Derrick
ANC Women's League
Elizabeth (Liz) Mafikeng was born in 1918 in Tarkastad, near Queenstown in the Eastern Cape, South Africa. Mafikeng attended school until Standard 7. Living conditions in her birthplace forced her to leave for Paarl in Cape Town in the early 1930s.
After the death of her father, she left school, at the age of 15, to support the family. Her first job was at a canning factory where she cleaned fruit and vegetables for 75 cents a week. In 1941, Liz joined the Food and Canning Workers Union, where she later became a shop steward.
From 1954 until 1959, Mafikeng, served as the President of the African Food and Canning Workers Union (AFCWU) and branch secretary in Paarl. She became famous for being a fiery speaker, and later joined the Paarl branch of the African National Congress (ANC) to connect the struggle for freedom to the struggle for better working conditions.
Mafikeng was actively involved in campaigning for human rights and elevated working conditions for workers. She worked her way up the ANC and rose to the position of National Vice-President of the Women's League.The Women's League aimed to focus on marginalised women's needs during the struggle for freedom.
She was one of the founder members of the Federation of South African Women (FEDSAW). In 1957, Mafikeng became the vice-president of the ANCWL. Furthermore, she served on the regional committee of the National Executive of the South African Congress of Trade Unions (SACTU).
In 1959, Liz Mafikeng was served with a banning order, shortly after she had led a demonstration protesting the newly introduced African Women Pass Laws. Mafikeng sought political asylum in Lesotho travelling secretly with her month old baby to Uhuru. Leaving behind her husband and her 10 children. During her years in exile she lost both her mother and her husband. Her mother and husband died whilst she was in exile, due to her safety she was unable to attend their funerals.
Her children were cared for by a committee of the FCWU, she did however, manage to get to the see them during the holidays. After the unbanning of the liberation movement in the 1990's, Mafikeng returned to Cape Town, where the union built her a house for her in Mbekweni Township, Paarl.
Liz Mafikeng passed away in 2009, and was honoured by the Western Cape government with the Western Cape Provincial Honours Awards for her leadership and services to the liberation and freedom movement.