UDF Member
Nyame Goniwe is the widow of the late struggle activist Matthew Goniwe, who was part of the Cradock Four. He was heavily involved in activism against the apartheid regime.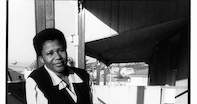 ©Tracey Derrick
In 1983, he joined the Cradock Youth Association (CRADOYA). Goniwe was also a member of United Democratic Front (UDF) and his wife, Nyame Goniwe, joined him in fighting the oppressive regulations during the liberation movement.
After his death in 1985, Nyame continued to advocate for equal rights and an end to apartheid. Nyame Goniwe is a dynamic activist who participated in numerous demonstrations against apartheid. In the 2000's, she started working in the community.
She became involved with the non-government organisation (NGO) the Social Change Assistance Trust (Scat) and serves as its acting director today.